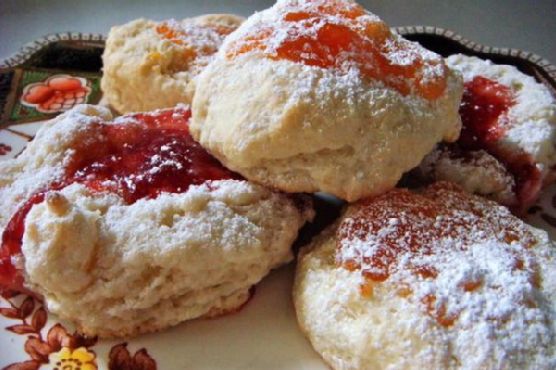 Rich Jelly Scones might be a good recipe to expand your breakfast recipe box. One serving contains 594 calories, 13g of protein, and 29g of fat. This lacto ovo vegetarian recipe serves 4 and costs $1.02 per serving. A mixture of all purpose flour, baking soda, milk, and a handful of other ingredients are all it takes to make this recipe so scrumptious. 2 people have made this recipe and would make it again. It is a budget friendly recipe for fans of European food. From preparation to the plate, this recipe takes approximately approximately 45 minutes. It is brought to you by Foodista. All things considered, we decided this recipe deserves a spoonacular score of 37%. This score is rather bad. Similar recipes are Rich Sour Cream Scones, from 1928, Currant Jelly Scones, and Peanut Butter 'n' Jelly Scones.
Rich Jelly Scones Instructions
Pre-heat oven to 400 degrees. Mix dry ingredients together. Cut butter into the dry ingredients using a fork or hand-held pastry blender. When well blended, the mixture will have the look of crumbly sand. Add the vanilla, eggs, and milk, mixing only long enough to blend the ingredients. *You do not want to begin to melt the butter into the flour mixture by over-mixing. Turn the dough onto a lightly floured counter top or pastry board. Shape it into a round disc 8 inches across, slightly thicker in the center. Using a long knife, cut the dough into eight even pie-shaped portions. Place scones on a lightly greased baking sheet. Using a spoon, press a well into the wide end of each triangle, and fill the well with a spoonful of fruit jam. Brush the exposed surface of each scone with the milk/egg mixture, Bake for twenty-five minutes, until scones are a beautiful golden brown.
Credit: Foodista.com – The Cooking Encyclopedia Everyone Can Edit