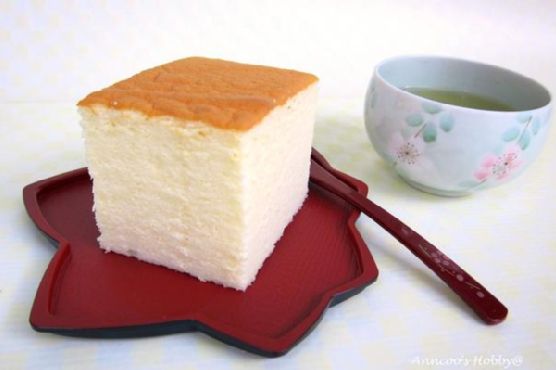 The recipe Repost - Japanese Cotton Cheesecake could satisfy your Japanese craving in about 45 minutes. This recipe makes 10 servings with 245 calories, 7g of protein, and 20g of fat each. For 75 cents per serving, this recipe covers 6% of your daily requirements of vitamins and minerals. 1 person were impressed by this recipe. Head to the store and pick up full cream milk, egg yolks, flour, and a few other things to make it today. It is a good option if you're following a vegetarian diet. All things considered, we decided this recipe deserves a spoonacular score of 19%. This score is rather bad. Try Cotton Soft Japanese Cheesecake, Japanese Cotton Soft Funfetti Cheesecake, and Fluffy Japanese Cotton Cheesecake and a Tokyo Feasting Trip for similar recipes.
Repost - Japanese Cotton Cheesecake Instructions
Boil milk and butter together at medium heat, lower heat add in cheese cream~use hand whisk to stir cheese cream till smooth. Add in plain flour and corn flour mix well.
Lastly add in egg yolks and vanilla flavor, mix cheese cream mixture till thick and transfer to large bowl, leave to cool.
In a mixing bowl whisk egg whites, cream of tartar and sugar till peak form (that is the form peaks with tips stand straight when the beaters are lifted).
Use a rubber spatula to fold egg whites in two batches to the cheese cream mixture.
Pour cheese cream mixture to a lined 9" square cake tin and place cake tin at the lowest rack in the oven. Steam bake at preheated 150C for about 1 hour 15 mins.
After about 30 mins of baking or when you find the top of the cheesecake turned brown half way of baking, place a foil cover loosely over the cake tin.
Cool down cheesecake in room temperature. *Cheesecake will shrink as it cools.
Best to chill cheesecake before serve.
Credit: Foodista.com – The Cooking Encyclopedia Everyone Can Edit