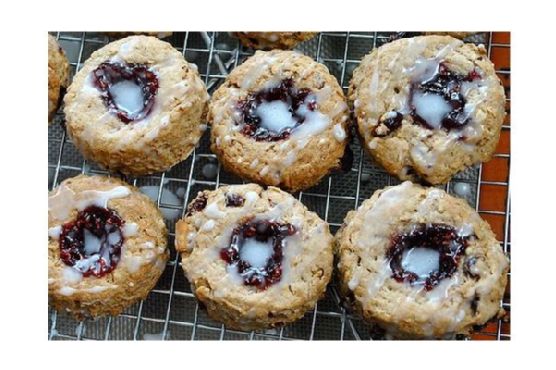 Need a lacto ovo vegetarian breakfast? Raspberry Thumbprint Wholewheat Scones With Macadamia Nuts could be a great recipe to try. One portion of this dish contains about 2g of protein, 5g of fat, and a total of 132 calories. For 32 cents per serving, this recipe covers 4% of your daily requirements of vitamins and minerals. This recipe serves 20. Only a few people really liked this European dish. A mixture of nonfat-sour cream, vanillan extract, powdered sugar, and a handful of other ingredients are all it takes to make this recipe so yummy. It is brought to you by Foodista. 2 people have made this recipe and would make it again. From preparation to the plate, this recipe takes around around 45 minutes. Taking all factors into account, this recipe earns a spoonacular score of 9%, which is very bad (but still fixable). Try Starbucks Copycat : Raspberry Thumbprint Scones, Paleo Indulgences – Raw Macadamia Thumbprint Cookies, and Jam Thumbprint Scones for similar recipes.
Raspberry Thumbprint Wholewheat Scones With Macadamia Nuts Instructions
Preheat oven to 400 F Place oats in a food processor. Process until finely ground Add flours, brown sugar, baking powder, baking soda, salt, cinnamon, and allspice to a food processor. Pulse 3 times Add butter; pulse 5 times until mixture resembles coarse meal. Be very careful - Don't over beat. Add 1 tsp vanilla and sour cream; pulse 3 times or just until combined ( DO NOT over-mix). If you're afraid you might over-mix, you can transfer the mixture into a big bowl and add sour cream and vanilla. Use spatula to mix. If you over-mix, the mixture will be too runny. Add cranberries, and nuts. Use spatula to mix well. Turn dough out onto a lightly floured surface; knead lightly 3 times. Roll dough to a 1/2 inch thickness; cut with a 2 1/2 inch biscuit cutter Place cut dough on a baking sheet. Use a watermelon scoop or small round spoon to press in a middle of each cut though to make a half hole for raspberry jam Mix together jam and the remaining vanilla extract. Add 1/2 teaspoon of jam into a hole. Don't over put it otherwise it will run all over a scone. Bake for 14 minutes or until golden brown. Remove from baking sheet; transfer to a wire rack While they're cooling, combine powdered sugar and milk. Stir with a whisk until smooth. Drizzle the glaze evenly over scones.
Credit: Foodista.com – The Cooking Encyclopedia Everyone Can Edit