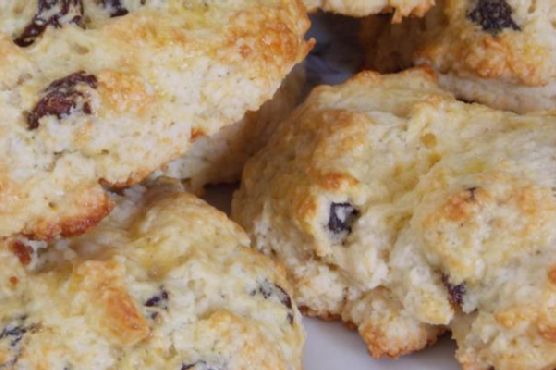 The recipe Raisin Scones is ready in roughly 45 minutes and is definitely an outstanding vegetarian option for lovers of Scottish food. One serving contains 161 calories, 3g of protein, and 6g of fat. This recipe serves 12 and costs 17 cents per serving. Only a few people really liked this morn meal. Head to the store and pick up raisins, egg yolk, sugar, and a few other things to make it today. This recipe from Foodista has 1 fans. All things considered, we decided this recipe deserves a spoonacular score of 20%. This score is not so great. Try Raisin Scones, Raisin Scones, and Cinnamon Raisin Scones for similar recipes.
Raisin Scones Instructions
Preheat oven to 400 degrees F. Lightly grease baking sheet.
Sift flour and baking powder into a med. bowl. Rub butter and sugar into flour to form a fine crumble. Make a well in center, add milk and raisins. Knead gently together, do not over mix. Dough will be sticky.
On generously floured surface, roll out to 3/4 inch thickness. Cut into 2 1/2 inch rounds with a cookie cutter. Alternatively, you can scoop dough with a spoon and shape into rounds. Transfer to baking sheet, brush tops with yolk. Allow to stand for 10 mins.
Bake in preheated oven until risen and tops are golden, 12 to 15 mins.
Credit: Foodista.com – The Cooking Encyclopedia Everyone Can Edit