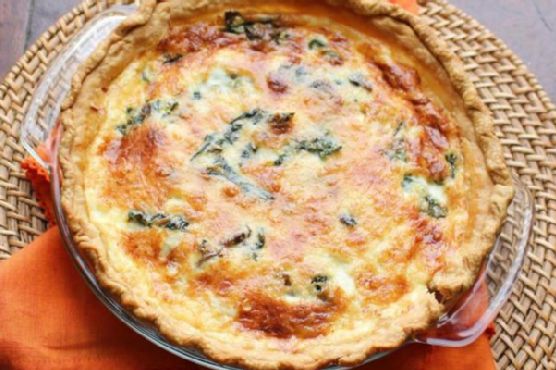 Quiche with Swiss Chard and Mushroom might be just the main course you are searching for. One serving contains 398 calories, 13g of protein, and 28g of fat. For $1.46 per serving, this recipe covers 17% of your daily requirements of vitamins and minerals. This recipe serves 7. 1 person has made this recipe and would make it again. Only a few people really liked this Mediterranean dish. If you have prima donnan aged gouda cheese, heavy cream, crimini mushrooms, and a few other ingredients on hand, you can make it. It is brought to you by Foodista. From preparation to the plate, this recipe takes around around 45 minutes. It is a good option if you're following a lacto ovo vegetarian diet. With a spoonacular score of 39%, this dish is not so excellent. Similar recipes include Swiss Chard, Mushroom, and White-Cheddar Quiche, Salmon and Swiss Chard Quiche, and Crustless Swiss Chard Quiche.
Quiche with Swiss Chard and Mushroom Instructions
Preheat oven to 350 F. Beat room temperature eggs with heavy cream in a small bowl. Place pie crust in a deep-dish glass pie plate and crimp edges. Heat 2 tablespoons butter in a saute pan and cook mushroom ond shallot until browned. Season vegetables to taste with salt and pepper and stir in chopped chard leaves, cooking only long enough to allow them to wilt; cool mixture. Sprinkle about 2 ounces of the cheese in the bottom of the pie crust and spread vegetables over that, then top with remaining cheese. Pour the custard (cream and egg) mixture over all. Make sure the cheese and vegetables are covered or wet with the custard mixture. Dot with butter pieces and sprinkle with nutmeg. Bake quiche uncovered, in a preheated oven, for about 45 minutes or until domed and puffy and custard is set. Allow to sit undisturbed for about 15 minutes before slicing and serving.
Credit: Foodista.com – The Cooking Encyclopedia Everyone Can Edit