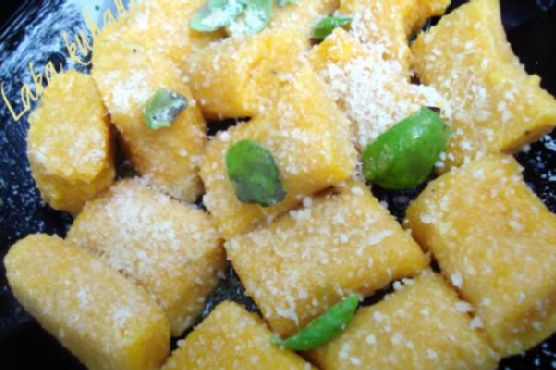 Pumpkin gnocchi with basil and Parmesan is a Mediterranean recipe that serves 6. One portion of this dish contains about 13g of protein, 7g of fat, and a total of 409 calories. For 73 cents per serving, this recipe covers 22% of your daily requirements of vitamins and minerals. This recipe from Foodista requires corn flour, eggs, sea salt, and basil leaves. 20 people have tried and liked this recipe. It works best as a main course, and is done in approximately about 45 minutes. With a spoonacular score of 83%, this dish is excellent. Users who liked this recipe also liked Toasted Gnocchi with Mushrooms, Basil and Parmesan, Creamy Parmesan Gnocchi with Mozzarella, Tomatoes and Basil, and Basil Gnocchi.
Pumpkin gnocchi with basil and Parmesan Instructions
Separate the meat and chop the pumpkin into a puree. Add eggs, stir. Add salt, pepper and chopped basil. Add flour and knead a soft dough. If the dough is too sticky, add more flour - the amount depends on the water content of the pumpkin. Divide the dough into equal rolls 3 cm thick and about 20 cm long. Divide and cut each roll into a 2 cm long pieces. Cook the gnocchi in a large pot in plenty of salted water. Gnocchi are cooked when they rise to the surface. Remove them from the pot with a slotted spoon. Pour hot olive oil over gnocchi or simply saut them in hot oil. Serve sprinkled with cheese and fresh basil.
Credit: Foodista.com – The Cooking Encyclopedia Everyone Can Edit