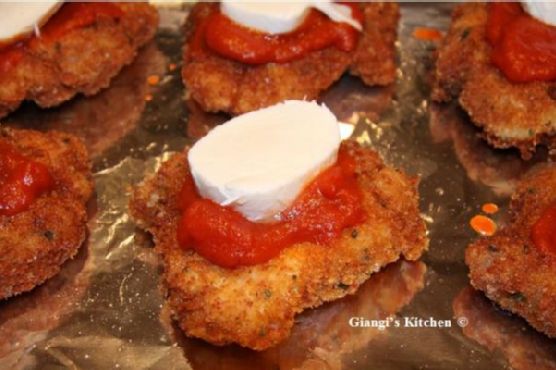 The recipe Pollan alla Parmigiana: Chicken Parmesan could satisfy your Mediterranean craving in approximately 45 minutes. This main course has 594 calories, 45g of protein, and 26g of fat per serving. For $2.54 per serving, this recipe covers 31% of your daily requirements of vitamins and minerals. Only a few people made this recipe, and 3 would say it hit the spot. Head to the store and pick up mozzarella, eggs, salt, and a few other things to make it today. To use up the oil you could follow this main course with the Vegan Mango Banana Bread as a dessert. All things considered, we decided this recipe deserves a spoonacular score of 74%. This score is solid. Try Eggplant Parmesan (Melanzane alla Parmigiana), Aubergine, tomato & Parmesan bake (Melanzane alla Parmigiana), and Melanzane alla Parmigiana - Aubergine parmigiana for similar recipes.
Polla alla Parmigiana: Chicken Parmesan Instructions
Preheat oven at 350
Pound the chicken breast or tights until they are even and inch thick.
On a shallow dish combine the flour, salt and pepper. On a second dish, beat the eggs with 1 tablespoon of water. On a third dish, combine the bread crumbs, panko, marjoram and parmesan cheese.
Coat the chicken on both sides with the flour mixture, shaking off any excess, then dip both sides into the egg mixture and dredge both sides in the bread crumbs mixture.
Heat the oil in a large saute pan and cook breaded thighs on medium high for 2 to 3 minutes on each side, until the chicken is golden brown on each side. Do not overcrowd the skillet. Remove and place in a cookie sheet.
Smear tomato sauce over the chicken and top with a mozzarella slice.
Place in the oven and cook until the mozzarella has melted.
Credit: Foodista.com – The Cooking Encyclopedia Everyone Can Edit