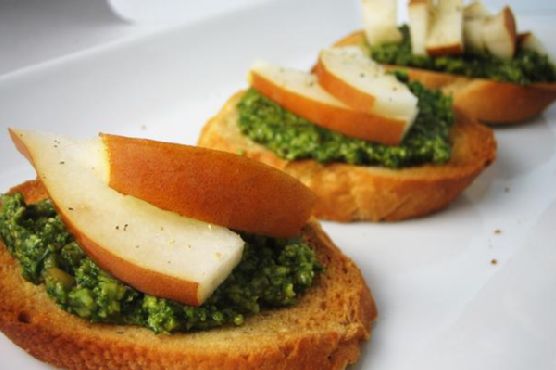 You can never have too many hor d'oeuvre recipes, so give Pear and Pesto Crostini a try. For $2.35 per serving, this recipe covers 20% of your daily requirements of vitamins and minerals. Watching your figure? This lacto ovo vegetarian recipe has 463 calories, 13g of protein, and 25g of fat per serving. This recipe serves 3. 2 people were glad they tried this recipe. This recipe is typical of Mediterranean cuisine. From preparation to the plate, this recipe takes around around 45 minutes. This recipe from Foodista requires salt and pepper, basil leaves, garlic, and your best olive oil. All things considered, we decided this recipe deserves a spoonacular score of 80%. This score is outstanding. Similar recipes include Edamame and Pear Crostini, Pear & gorgonzola crostini, and Pear and Brie Crostini.
Pear and Pesto Crostini Instructions
Preheat oven to 400 degrees. Slice French loaf into 1/2-inch-thick slices, and brush (or spray, if you have one of those nifty Misto things) with olive oil. Place slices on baking sheet and toast in oven for 10-15 minutes, or until edges are a deep golden brown. Remove from oven and set aside. While those are in the oven, make your pesto. In a food processor, combine basil leaves, garlic clove, pine nuts and Romano cheese. Pulse until pesto is coarse in texture, like coarse sand. Add in olive oil and process until fully incorporated. Taste. Add salt and pepper, if needed. Scrape pesto into a serving bowl or dish and set aside. (You should have about 3/4 cup.) Cut pear into thin slices and place on a platter with crostini and pesto. To assemble: Spread pesto over crostini and top with pear and fresh ground black pepper, if desired.
Credit: Foodista.com – The Cooking Encyclopedia Everyone Can Edit