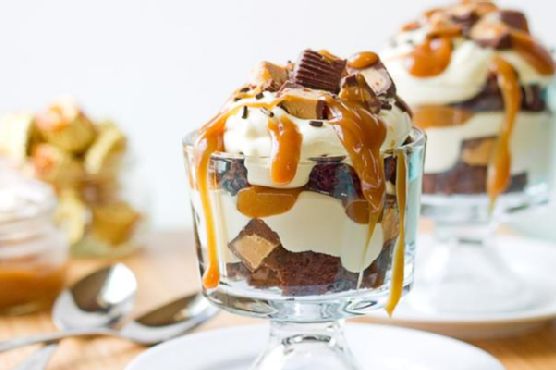 Peanut Butter Cup Trifle is an European recipe that serves 4. One serving contains 465 calories, 10g of protein, and 31g of fat. For 72 cents per serving, this recipe covers 8% of your daily requirements of vitamins and minerals. 1 person has made this recipe and would make it again. It is brought to you by Foodista. Not a lot of people really liked this dessert. If you have whipped topping, instant vanilla pudding–the pudding is already made, whipping cream, and a few other ingredients on hand, you can make it. From preparation to the plate, this recipe takes around around 45 minutes. With a spoonacular score of 27%, this dish is not so spectacular. If you like this recipe, you might also like recipes such as Peanut Butter Cup Trifle, Peanut Butter Brownies with Peanut Butter Cup Frosting, and Peanut Butter Cup Cookies with Peanut Butter Buttercream.
Peanut Butter Cup Trifle Instructions
Prepare peanut butter sauce by mixing the peanut butter, cream, corn syrup and brown sugar in a small saucepan. Heat over medium heat until sugar is melted and sauce is very smooth. Remove from heat; set aside. Fold together the whipped topping and the vanilla pudding in a small bowl. Set aside. Assemble trifle by taking 4 mini trifle bowls or dishes of an equal size (a stemless wine glass or an old-fashioned glass works well here too), and build layers: layer 1/2 of the brownies on the bottom of the 4 trifle bowls. Next, layer 1/2 of the quartered peanut butter cups on top of the brownie layer, then top with 1/2 the pudding. Drizzle about 1-2 tbs of the peanut butter sauce over the pudding. Repeat the layer brownie and the pudding layer once more. Top with remaining quartered peanut butter cups and liberally drizzle with more peanut butter sauce–and yep, let the sauce drip down the sides!!! You can garnish with chocolate sprinkles if desired too. Remember–you are distributing what you have between 4 small bowls. Let your eye be your judge as to the amounts of each bowl so they will look even.
Credit: Foodista.com – The Cooking Encyclopedia Everyone Can Edit