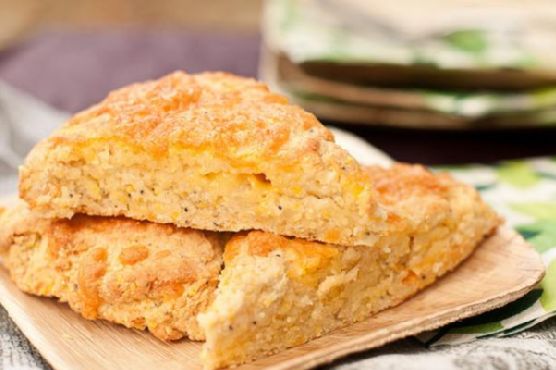 Parmesan Cheese Scones might be just the morn meal you are searching for. This recipe makes 8 servings with 240 calories, 8g of protein, and 16g of fat each. For 54 cents per serving, this recipe covers 7% of your daily requirements of vitamins and minerals. 1 person has made this recipe and would make it again. From preparation to the plate, this recipe takes around 45 minutes. This recipe is typical of Scottish cuisine. A mixture of baking powder, butter, flour, and a handful of other ingredients are all it takes to make this recipe so scrumptious. All things considered, we decided this recipe deserves a spoonacular score of 25%. This score is rather bad. Try Parmesan Scones, Pumpkin-Parmesan Scones, and Parmesan Sage Scones for similar recipes.
Parmesan Cheese Scones Instructions
Preheat oven to 400F degrees. Grease baking sheet; set aside. Combine flour, cheese, baking powder, oregano and salt in large bowl or food processor. Cut in butter with pastry blender, two knives or pulses of the food processor until mixture resembles coarse crumbs. (If blended in food processor, transfer mixture to large bowl.)
Combine milk, eggs and Tabasco sauce in small bowl until well blended; stir into flour mixture just until moistened. Stir in onion. (The dough will be sticky.) Place dough onto center of prepared baking sheet; pat dough into 9" circle. Cut circle into 8 wedges.
Bake 20-25 minutes or until golden brown and wooden pick inserted in center comes out clean. Remove from pan. Cool on wire rack 10 minutes. Serve warm or cool completely.
Credit: Foodista.com – The Cooking Encyclopedia Everyone Can Edit