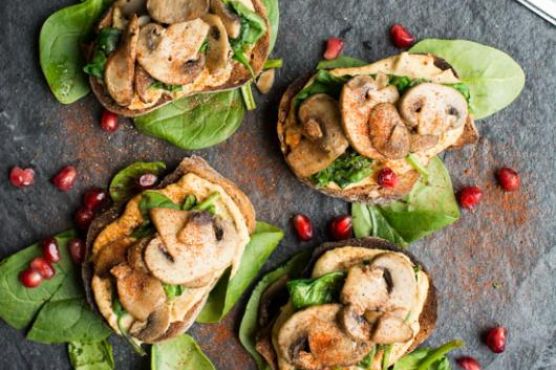 The recipe Mushroom Hummus Crostini can be made in about 30 minutes. For $2.41 per serving, this recipe covers 31% of your daily requirements of vitamins and minerals. One serving contains 468 calories, 21g of protein, and 10g of fat. This recipe serves 4. 1 person were impressed by this recipe. It works well as a rather inexpensive hor d'oeuvre. A mixture of lemon juice, hummus, hummus, and a handful of other ingredients are all it takes to make this recipe so scrumptious. It is a good option if you're following a dairy free, lacto ovo vegetarian, and vegan diet. It is brought to you by Foodista. This recipe is typical of Mediterranean cuisine. All things considered, we decided this recipe deserves a spoonacular score of 89%. This score is super. If you like this recipe, take a look at these similar recipes: Hummus And Cucumber Crostini, Seared Tuna with Hummus on Crostini, and Beet Hummus and Caramelized Onion Crostini.
Mushroom Hummus Crostini Instructions
To make the hummus, place all ingredients in a food processor and blend until smooth. Adjust the amount of water and harissa pasta depending on how thick and spicy you want your hummus. It should still be spreadable. Set the hummus aside.
Slice the mushrooms and fry in a shallow pan until they are golden and crispy. Once they are ready, push them to one side of the pan and add the spinach to wilt.
To assemble the crostini, spread some hummus on a slice of the bread (you can toast it if you like), then top with some spinach and mushrooms. Serve immediately.
Credit: Foodista.com – The Cooking Encyclopedia Everyone Can Edit