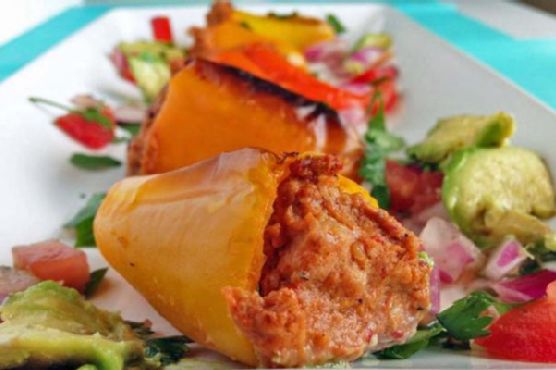 The recipe Mini Stuffed Mexican Bell Peppers could satisfy your Mexican craving in around 45 minutes. Watching your figure? This gluten free and dairy free recipe has 367 calories, 28g of protein, and 5g of fat per serving. For $5.22 per serving, you get a side dish that serves 4. Not a lot of people made this recipe, and 7 would say it hit the spot. Head to the store and pick up onion, chipotles in adobo, chili powder, and a few other things to make it today. All things considered, we decided this recipe deserves a spoonacular score of 94%. This score is spectacular. Try Mexican Stuffed Bell Peppers, Jerk Chicken and Stuffed Mini Bell Peppers, and Goat Cheese Stuffed Mini Bell Peppers for similar recipes.
Mini Stuffed Mexican Bell Peppers Instructions
1. Roast the vegetables: Preheat oven to 400 degrees.Cut the tomatillos in half, slice the onion into 1/2 in slices and remove garlic from covering. Place on baking sheet. Roast till tomatillos are tender and start to brown, about 20 minutes.
2. Meanwhile,make the sauce: Add tomatillos, onion, garlic, tomatoes, green chilies, chipotles, chili powder, cumin, paprika, and coriander to blender or food processor. Blend until smooth.
3. In a large bowel, add the turkey, beans, and sauce, Mix together until everything is evenly distributed.
4. Cut tops off mini bell peppers and remove any seeds. Stuff turkey mixture into peppers until slightly overflowing. Place in 9 by 13 glass dish. Repeat for all bell peppers.
5. Cook at 400 for 20 minutes. For the last 5 minutes, turn on the broiler and get some color on the peppers.
6. Serve with your favorite salsa (used my Pico De Gallo from my tortilla soup), sour cream and avocado.
ENJOY!
Credit: Foodista.com – The Cooking Encyclopedia Everyone Can Edit