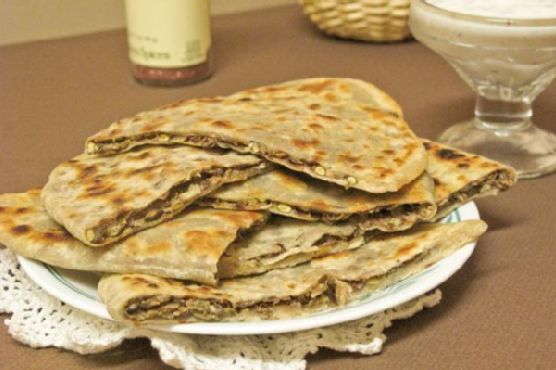 The recipe Middle Eastern Stuffed Lentil Zatar Bread is ready in approximately 45 minutes and is definitely an outstanding dairy free option for lovers of middl eastern food. This recipe serves 4 and costs 79 cents per serving. One serving contains 471 calories, 18g of protein, and 4g of fat. Not a lot of people really liked this main course. Head to the store and pick up lentils, cilantro, less to make a pliable dough, and a few other things to make it today. To use up the salt you could follow this main course with the Apple Turnovers Recipe as a dessert. 1 person has tried and liked this recipe. All things considered, we decided this recipe deserves a spoonacular score of 91%. This score is super. Try Middle Eastern Lentil And Rice Soup, Middle Eastern Lentil and Rice Soup, and Middle Eastern Lentil Rice Rolls With Lemon Tahini Sauce for similar recipes.
Middle Eastern Stuffed Lentil Zatar Bread Instructions
Make a pliable dough from flour, salt and water. Knead well for atleast 10minutes or until the dough is soft, smooth and ready.
If the dough is very sticky and wet, add some more flour.
Cover with a plastic wrap and let rest for an hour.
Meanwhile, cook lentils per package directions (I boiled lentils and water in 1:3 proportion; then reduced heat to simmer and cook covered for 20-25minutes -- proportion and cooking time varies depending on the lentil variety).
Add cilantro, onions, salt and stuffing spices to the cooked lentils. Mix well and set aside.
Divide the dough into 4 equal sized balls.
Using a rolling pin or your hands flatten the dough into a circular disk with a diameter roughly equal to your palm.
Add few spoonful of stuffing onto half of the disk. Fold the other half over and using a bit of water tightly seal the edges making a half circular stuffed disk.
Using your hands flatter the half circular bread as much as possible taking care not to tare the mixture apart (If its really easy to tear it apart then try to reduce the amount of stuffing for the next one).
On a hot pan or griddle, heat a tsp of oil. When hot, add the bolani. Let it cook on one side until well cooked (red marks should start to appear).
Flip the bread over, add a bit more oil if needed and cook again until both sides are thoroughly cooked.
Remove from heat and serve hot with a cooling yogurt dip!
Credit: Foodista.com – The Cooking Encyclopedia Everyone Can Edit