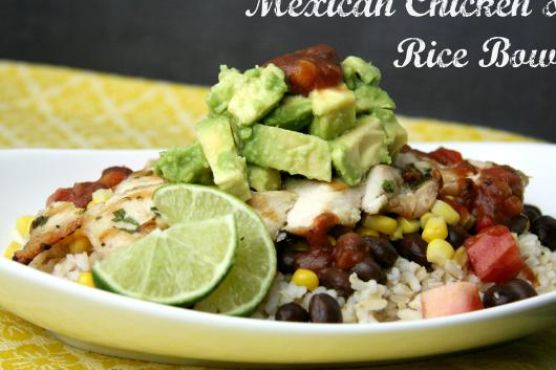 The recipe Mexican Chicken & Rice Bowl is ready in about 30 minutes and is definitely a super gluten free and dairy free option for lovers of Mexican food. This recipe serves 4 and costs $4.1 per serving. This main course has 839 calories, 62g of protein, and 37g of fat per serving. This recipe from Foodista has 1 fans. If you have limes, olive oil, tomato, and a few other ingredients on hand, you can make it. Overall, this recipe earns a rather bad spoonacular score of 26%. Cha Cha Bowl ( for Mexican Chicken and Black Bean Rice Bowl)- Soraya Darabi and Alexan Andrzejewski – 50 Women Game Changers In Food, Thai Basil Chicken Rice Bowl with Lemongrass Coconut Rice, and Mexican Chicken Spaghetti Squash Bowl – 5 Points are very similar to this recipe.
Mexican Chicken & Rice Bowl Instructions
Place the thinly sliced chicken in a bowl. Drizzle with enough olive oil to coat. Sprinkle with salt, pepper and a nice amount of fresh chopped parsley. Let sit for 20 minutes.
Fire up the grill and cook the chicken for about 4 minutes per side, depending on the thickness. Set aside.
Dice the avocado and toss with lime juice to coat and sprinkle with a little salt.
Cook the brown rice according to package instructions.
To build the bowls, start with a base of the cooked brown rice.
On top of that sprinkle on some corn, drained canned black beans, and diced tomato.
Once the chicken has rested a few minutes, slice on an angle. Lay the chicken on top of the bowl.
Add a big spoonful of the avocado on top of the chicken.
Add as much store bought salsa on top as you'd like and finish with a big squeeze of lime juice.
Credit: Foodista.com – The Cooking Encyclopedia Everyone Can Edit