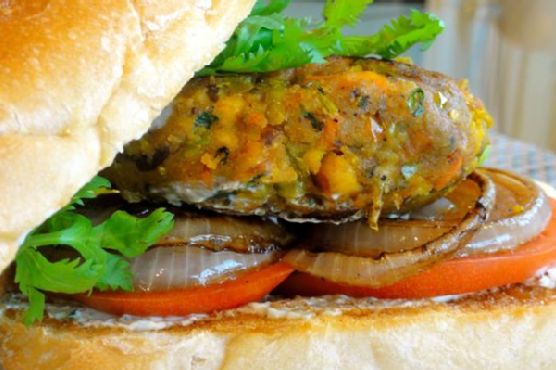 Masala-Tofu Burger could be just the dairy free recipe you've been looking for. This recipe serves 4 and costs $3.61 per serving. This main course has 486 calories, 19g of protein, and 11g of fat per serving. A mixture of tofu - shopping list, cumin powder shopping list, hing shopping list, and a handful of other ingredients are all it takes to make this recipe so delicious. 2 people were glad they tried this recipe. This recipe is typical of American cuisine. From preparation to the plate, this recipe takes about about 45 minutes. It is brought to you by Foodista. Overall, this recipe earns an amazing spoonacular score of 87%. Try Veggie Masala Burger Patty, Tofu Tikka Masala, and Masala Spiced Tofu Scramble for similar recipes.
Masala-Tofu Burger Instructions
In a large skillet over medium-high heat, add spray with a generous amount of PAM and add oil. Add mustard seeds and saute for 30 seconds-till you hear popping noises. Add curry leaves- BE CAREFUL, they pop hot oil! Add onions and peppers- sweat for about 30 seconds. Add chopped garlic, chilies and turmeric. Saute for about 5-7 minutes, until the onions and peppers are soft. Add peas and carrots mixture, cumin powder and salt. Saute for about 7-10 minutes- you want all the veggies to be soft and cooked through. Meanwhile in a small bowl, add the cubed tofu, a pinch of turmeric, cumin powder, coarse black pepper and some cayenne pepper (totally optional!). Mix and set aside to marinate for a bit. Once the veggies are cooked, add the tofu- saute until slightly brown and soft enough that it crumbles. Add juice form half a lemon and half of the chopped cilantro. Mix and add the diced boiled potato, and toss until everything is coated, soft and taste for salt/spices. Using a masher, mash the mixture until mushy and until the veggies are small. Set aside to cool. Once cooled, add a bit of the breadcrumbs and mix with your hands. Start forming into thick patties (mixture should make 4). If its still giving you a hard time, add more breadcrumbs. Make 4 patties, place on a plate and wrap with plastic wrap until ready to use. In a small skillet sprayed with PAM over medium-high heat, add one patty at a time. Cook for about 2 minutes on each side- until browned and crispy.At the same time, saute the thick slices of onion, until charred and slightly soft. Spread a generous amount of the chutney spread on each side on the bread, place burger, onions tomato and cilantro leaves. Serve with a slice of lemon and reduced-fat chips on the side.
Credit: Foodista.com – The Cooking Encyclopedia Everyone Can Edit