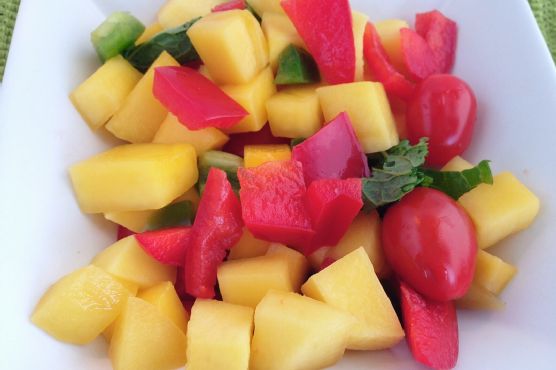 The recipe Mango Salsa could satisfy your Mexican craving in around 45 minutes. For $3.02 per serving, this recipe covers 20% of your daily requirements of vitamins and minerals. One serving contains 237 calories, 4g of protein, and 2g of fat. A couple people made this recipe, and 14 would say it hit the spot. It works well as a pretty expensive hor d'oeuvre. A mixture of mint leaves, an of sugar, bell pepper, and a handful of other ingredients are all it takes to make this recipe so yummy. It is a good option if you're following a gluten free and vegan diet. All things considered, we decided this recipe deserves a spoonacular score of 90%. This score is spectacular. Try Grilled Mango Chicken with Strawberry Mango Salsa, Sunny & Hot! Salsa (Pineapple Mango Kiwi Salsa), and Mango Salsa for similar recipes.
Mango Salsa Instructions
Peel and chop your mango into small cubesCube your bell peppers and onions as well and mix in with the mangoes. Add the cherry tomatoes and mix in.sprinkle your sugar and lime juice over it.Chop your scent/mint leaves and mix in and refrigerate.Serve cool as a side dish or if you want something refreshing on a hot day.
Credit: Afrolems