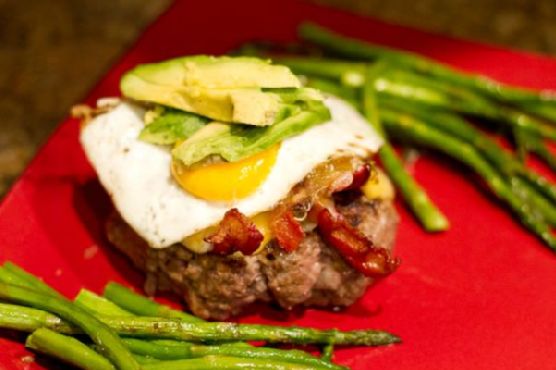 The recipe Low Carb Brunch Burger could satisfy your American craving in approximately 30 minutes. One serving contains 1114 calories, 60g of protein, and 91g of fat. This gluten free recipe serves 2 and costs $3.83 per serving. Only a few people really liked this main course. This recipe from Foodista has 1 fans. A mixture of pepper, garlic powder, ground beef, and a handful of other ingredients are all it takes to make this recipe so delicious. To use up the cumin you could follow this main course with the Moroccan Chocolate Mousse as a dessert. All things considered, we decided this recipe deserves a spoonacular score of 77%. This score is good. Try Low-carb cauliflower tortillas, Low-carb cauliflower pizza, and Best Low Carb Chocolate Buttercream for similar recipes.
Low Carb Brunch Burger Instructions
Fry up 4 strips of bacon and set aside.
Leave some of the bacon fat in the pan but remove from the eye.
Put all of the spices and sauces into the ground beef, mix well and form even patties.
Heat a large non-stick skillet until the pan (with some of the bacon fat in it) is hot. Place patties in hot pan and sear for 1 minute and 30 seconds each side. After searing the burgers, remove them from stove top and bake off in the oven at 415 degrees until it reaches your desired temperature (3-4 minutes).
While the burgers are in the oven, get your egg going. On the same hot eye where you did your burger, use a new non-stick pan for the eggs. On the two over easy eggs, grind 2 grinds of salt, 2 grinds of pepper and a dash of Tabasco onto each egg yolk.
Add the cheese on the burgers when the burgers have about 1 minute of cook time remaining, so the cheese melts.
Credit: Foodista.com – The Cooking Encyclopedia Everyone Can Edit