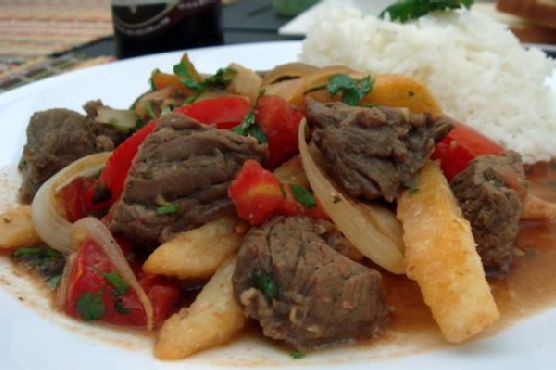 Liz's Lomo Saltado could be just the gluten free and dairy free recipe you've been looking for. For $7.15 per serving, this recipe covers 30% of your daily requirements of vitamins and minerals. One portion of this dish contains approximately 44g of protein, 50g of fat, and a total of 665 calories. This recipe serves 4. 2 people were glad they tried this recipe. Head to the store and pick up wine vinegar, bell pepper, bell pepper, and a few other things to make it today. From preparation to the plate, this recipe takes about about 45 minutes. It is an expensive recipe for fans of Latin American food. It is brought to you by Foodista. Taking all factors into account, this recipe earns a spoonacular score of 72%, which is good. If you like this recipe, you might also like recipes such as Grilled Lomo Saltado, Lomo Saltado With Mushrooms and Onion, and El Pollo Inka's Peruvian Lomo Saltado (Copycat).
Liz's Lomo Saltado Instructions
Prepare the frozen french fries according to directions. Set aside when complete and keep warm. Heat a large wok or skillet over medium-high heat. Saute the onions and bell peppers until translucent, about 10 minutes. Add the garlic and jalapeno and cook for an additional minute. Mix everything until combined. Add the beef chunks, cumin, complete seasoning, soy sauce and red wine vinegar sauce. Mix well and cook until beef is no longer pink about 5 to 7 minutes. Add the tomato chunks and add the cover and cook for additional 5 minutes. When ready to serve, add the french fries and toss everything gently together. Serve lomo saltado over a bed of white rice and garnish with freshly chopped cilantro leaves. Enjoy with aji sauce on the side.
Credit: Foodista.com – The Cooking Encyclopedia Everyone Can Edit