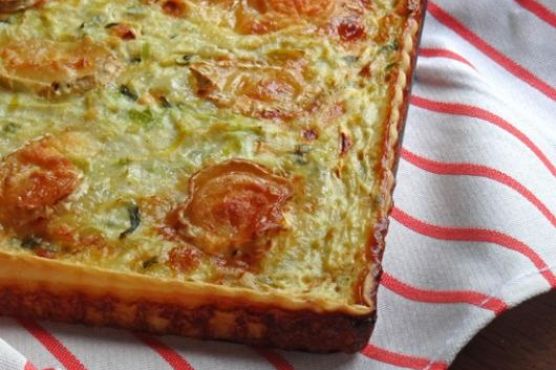 Leek and goat's cheese quiche might be just the Mediterranean recipe you are searching for. For $2.22 per serving, you get a main course that serves 6. One serving contains 456 calories, 15g of protein, and 31g of fat. This recipe from Foodista has 1 fans. Head to the store and pick up Salt & Pepper, almond, butter, and a few other things to make it today. From preparation to the plate, this recipe takes roughly 1 hour and 15 minutes. It is a good option if you're following a lacto ovo vegetarian diet. With a spoonacular score of 36%, this dish is rather bad. If you like this recipe, you might also like recipes such as Goat Cheese And Leek Quiche, Leek and Goat Cheese Quiche, and Goat Cheese, Leek & Spinach Quiche.
Leek and goat's cheese quiche Instructions
Preheat your oven to 200C/400F.
Line your tin with baking parchment. Unroll the pastry and fit it into the tin.
Line with more baking parchment, fill with baking beans and blind bake for 15-20 minutes. Remove the paper and beans and bake 5 minutes more to dry the base.
Meanwhile, in a large non-stick frying pan, fry the leeks and tarragon in the butter until they have rendered their liquid and it has evaporated. Set aside to cool a little.
Take the log of goat cheese and chop half and slice the other half.
In a large bowl, whisk together the milk, eggs, nutmeg, salt & pepper. Whisk until well mixed, then stir in the chopped goat cheese.
Carefully tip the leek mixture into the pastry, arrange the sliced goat cheese on top and scatter over the chopped almonds, if using.
Bake for 30-40 minutes, until golden and the filling is set.
Serve warm, cold or at room temperature.
Credit: Foodista.com – The Cooking Encyclopedia Everyone Can Edit