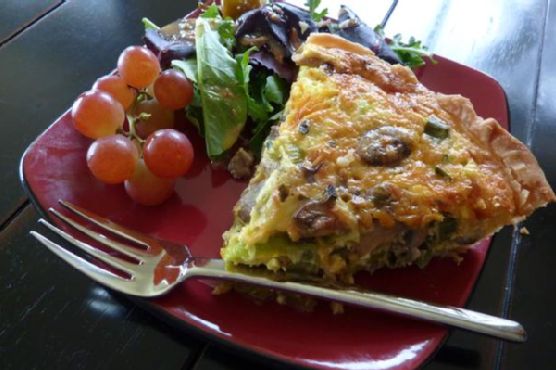 You can never have too many main course recipes, so give Leek and Mushroom Quiche a try. This recipe makes 4 servings with 398 calories, 15g of protein, and 22g of fat each. For $1.16 per serving, this recipe covers 20% of your daily requirements of vitamins and minerals. 1 person has made this recipe and would make it again. Head to the store and pick up salt, mushrooms, garlic, and a few other things to make it today. To use up the plain flour you could follow this main course with the Apple Tart with Caramel Sauce as a dessert. From preparation to the plate, this recipe takes around 45 minutes. It is a good option if you're following a vegetarian diet. All things considered, we decided this recipe deserves a spoonacular score of 51%. This score is solid. Try Leek, Ham and Mushroom Quiche, Mushroom and Leek Quiche, and Leek and Mushroom Quiche for similar recipes.
Leek and Mushroom Quiche Instructions
Pastry:Sift flour and salt into a bowl, rub in butter, add egg yolk and lemon juice and mix to a firm dough. Cover and refrigerate 20 minutes. Roll dough out large enough to line a 25cm flan tin, trim the edges. Cover pastry with greaseproof paper and fill with dried beans or rice to hold in shape while cooking. Bake in a moderate oven for 7 minutes, remove paper and beans and bake a furthur 7 minutes. Set aside until required.
Whisk eggs, cream, milk and cheeses together and set aside.
Slice leeks and mushrooms.
Melt butter in a pan and cook garlic, mushrooms and leeks about 4 minutes until tender.
Spread leek mushroom mixture evenly over pastry. Pour over egg mixture and sprinkle with paprika. Bake in a moderate oven for about 30 minutes or until set.
Serves 4.
Credit: Foodista.com – The Cooking Encyclopedia Everyone Can Edit