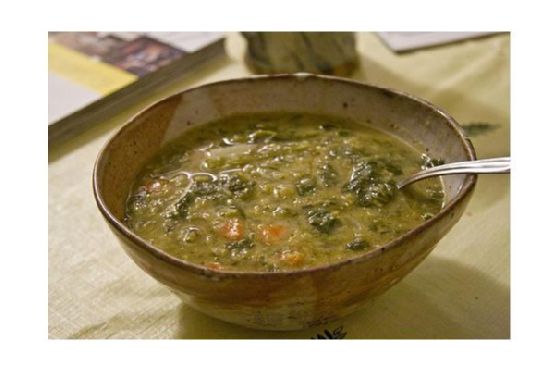 The recipe Lebanese Lentil Soup could satisfy your middl eastern craving in approximately 45 minutes. This recipe serves 4 and costs $1.61 per serving. This main course has 393 calories, 27g of protein, and 1g of fat per serving. A mixture of pepper, lemon juice, water, and a handful of other ingredients are all it takes to make this recipe so yummy. To use up the salt you could follow this main course with the Apple Turnovers Recipe as a dessert. 1 person has made this recipe and would make it again. It can be enjoyed any time, but it is especially good for Autumn. All things considered, we decided this recipe deserves a spoonacular score of 93%. This score is spectacular. Try Slow Cooker Lebanese Lentil Soup, Lebanese Lentil and Swiss Chard Soup, and Slow Cooker Lebanese Red Lentil Soup for similar recipes.
Lebanese Lentil Soup Instructions
Heat lentils, ham bone, and water in large saucepan to boiling. Reduce heat. Skim the excess; skim off the top as it forms. Simmer, uncovered, 45 minutes. Heat oil in large skillet over medium heat until hot. Add spinach, onion, garlic, and coriander seed; saute until the spinach is wilted. Add rice and the spinach mixture to lentils. Simmer, uncovered, until lentils and onions are tender, 15-20 minutes.
Remove ham bone, pull ham from bone, chop the meat and stir into the soup. Add more water, if needed, to thin the soup. Stir in the lemon juice, salt and pepper to taste. Makes 6 (1 cup) servings.
Credit: Foodista.com – The Cooking Encyclopedia Everyone Can Edit