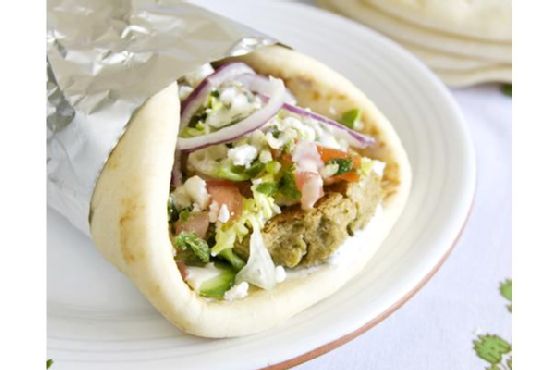 Lebanese Falafel might be a good recipe to expand your main course recipe box. This recipe serves 4 and costs $2.23 per serving. One portion of this dish contains roughly 20g of protein, 18g of fat, and a total of 481 calories. It is brought to you by Foodista. A mixture of onion, bulgar wheat, wrap, and a handful of other ingredients are all it takes to make this recipe so flavorful. Only a few people really liked this middl eastern dish. From preparation to the plate, this recipe takes around around 45 minutes. 2 people found this recipe to be flavorful and satisfying. All things considered, we decided this recipe deserves a spoonacular score of 85%. This score is super. If you like this recipe, you might also like recipes such as falafel , how to make falafel | falafel with chickpeas, King of Falafel & Shawarma's Falafel from 'New York a la Cart, and Lebanese Peppers.
Lebanese Falafel Instructions
In a food processor combine all ingredients and pulse until smooth. Place in a sealable container and refrigerate for at least one hour. Preheat oven to 400. Spray a cookie sheet with cooking oil, set aside. Scoop two tablespoons of mixture and roll with your hands to create a ball. Place on prepared cookie sheet. Repeat for all the mixture. Makes about 12 equally sized falafel balls. Brush falafel with olive oil and bake in the oven for 20 minutes. You can opt to broil them for an additional 2 minutes to brown the tops. In the meantime combine all ingredients for the lemon tahini sauce in a small bowl. Whisk until smooth; set aside. To assemble spread tzatziki over four warmed pitas. Top with three falafel ball, diced tomato, red onion, cucumber and lettuce. Drizzle with lemon tahini sauce and sprinkle with feta cheese and tabouleh. Fold the pita and secure with tin foil. Serve warm.
Credit: Foodista.com – The Cooking Encyclopedia Everyone Can Edit