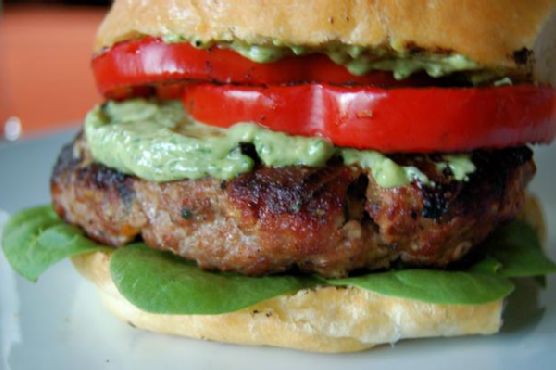 La Bellan Italian Turkey Burger might be just the Mediterranean recipe you are searching for. For $5.65 per serving, you get a main course that serves 4. One serving contains 847 calories, 64g of protein, and 51g of fat. 2 people have tried and liked this recipe. If you have pine nuts, ground turkey, salt, and a few other ingredients on hand, you can make it. To use up the egg you could follow this main course with the Rose Levy Beranbaum's Chocolate Tomato Cake with Mystery Ganache as a dessert. From preparation to the plate, this recipe takes about 30 minutes. All things considered, we decided this recipe deserves a spoonacular score of 85%. This score is spectacular. Try Turkey & Baby Bellan Asian Lettuce Wraps, Italian Meatball Burger, and The Italian Texas BBQ Burger for similar recipes.
La Bella Italian Turkey Burger Instructions
Mix first 8 ingredients together thoroughly then add salt & pepper and olive oil.
Form 8 thin patties with the meat mixture. Cut mozzarella into 1/4 inch pieces. On top of one patty, scatter 4-5 mozzarella pieces throughout the center of the meat leaving a little space between each cube. Be careful not to put cheese too close to the edges or it will leak out during grilling. Place another patty on top and seal edges together until cheese is completely buried.
Cut off the top of the red bell pepper and remove seeds and core. Then slice into 1/4 rings and brush lightly with olive oil.
Pesto Sauce: In a dry frying pan, quickly toast the pine nuts. Should take less than 3 minutes. In a food processor, pulse basil leaves, toasted pine nuts and salt & pepper. simultaneously adding olive oil through the feed tube. Once good puree is achieved, add the mayo and pulse 2-3 more times, scraping sides to make sure its thoroughly mixed.
Cook burgers meat over low to medium heat. Be sure to coat grill with non-stick spray. Cook about 8-10 minutes on each side. Try not to flip the burger too often as it tends to crumble. If the mozzarella starts to ooze out, don't worry... that's a sign that your burger is almost done.
Place red pepper rings on the upper or outer edges of grill. Cook 2-3 minutes on each side. Brush olive oil on the insides of both halves of the sourdough buns and also place on the upper or outer edges of grill. Remove when lightly toasted.
Spread pesto sauce on top & bottom bun. place spinach leaves on bottom bun and place meat on top of spinach leaves. Garnish top of meat with grilled red bell pepper, fold the halves together and you have La Bella Burger!
Credit: Foodista.com – The Cooking Encyclopedia Everyone Can Edit