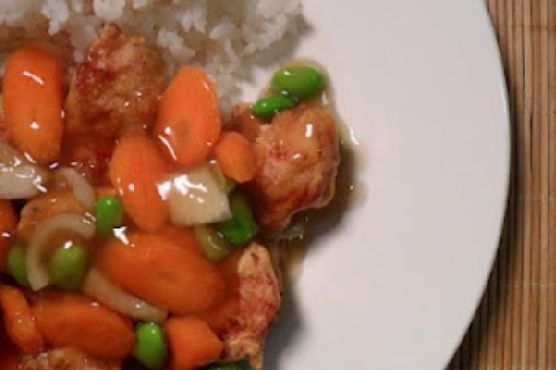 The recipe Korean Sweet n Sour Chicken is ready in around 30 minutes and is definitely an amazing dairy free option for lovers of Chinese food. For $2.73 per serving, this recipe covers 37% of your daily requirements of vitamins and minerals. This recipe makes 4 servings with 604 calories, 57g of protein, and 23g of fat each. It works well as a rather inexpensive main course. Only a few people made this recipe, and 2 would say it hit the spot. A mixture of vegetable oil, chicken breasts, water, and a handful of other ingredients are all it takes to make this recipe so scrumptious. To use up the corn starch you could follow this main course with the Cherry and Apricot Cobbler as a dessert. All things considered, we decided this recipe deserves a spoonacular score of 79%. This score is pretty good. Try Korean Cabbage Wraps with Sweet-and-Sour Cucumber Salad, Grilled Korean BBQ Short Rib Dogs w/Sweet Peach Relish + Spicy Korean Slaw, and Sweet Soy Sauce For Korean Fried Chicken for similar recipes.
Korean Sweet n Sour Chicken Instructions
Cut the chicken into thin strips, about 1 or 2-inch pieces. Add soy sauce to the chicken for a short marination; mix well and set aside.
Cut the vegetables into large bite-sized pieces. Set aside until the sauce is ready and thickened.
Make batter by mixing the flour, cornstarch, water and beaten egg. Add more flour until a thick consistency is reached. Dip the marinated chicken strips into the batter.
Bring vegetable oil to medium high heat. Deep fry each of the strips for about 3, 4 min for each batch or until browned and cooked through. When finished, place on paper towel-lined dish to remove excess oil. Once the first round of frying is done, heat the oil and re-fry the batch for the 2nd time to make it really crispy (optional).
To make the sauce bring the following ingredients in a saucepan: one cup of water along 3 tbsp vinegar, 3 tbsp sugar, and 2 tbsp of soy sauce. Bring to a rapid boil and then add the mixture of cornstarch and water. Add desired vegetables and let simmer for about 5 minutes or until it thickens.
On a large plate, add the fried chicken strips, then pour over the sauce/vegetable mixture and serve while warm.
Credit: Foodista.com – The Cooking Encyclopedia Everyone Can Edit