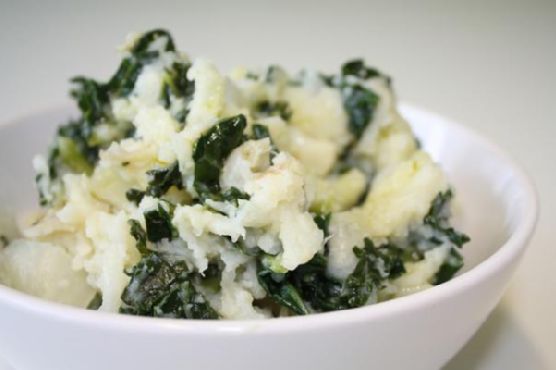 Kale Colcannon might be just the side dish you are searching for. This recipe makes 4 servings with 254 calories, 8g of protein, and 12g of fat each. For 60 cents per serving, this recipe covers 26% of your daily requirements of vitamins and minerals. It is a good option if you're following a gluten free and vegetarian diet. 2 people have made this recipe and would make it again. Head to the store and pick up butter, salt, pepper, and a few other things to make it today. This recipe is typical of European cuisine. From preparation to the plate, this recipe takes roughly 45 minutes. All things considered, we decided this recipe deserves a spoonacular score of 77%. This score is pretty good. Try Colcannon With Leeks And Kale, Irish Colcannon Potatoes Mashed Potato with Kale and Bacon, and Broiled Lamb Chops with Braised Root Vegetables and Colcannon - Creamy Kale and Potatoes for similar recipes.
Kale Colcannon Instructions
Cook potatoes in a pot of boiling water until tender; drain, reserving water.
Place potatoes in a large bowl and mash potatoes with a hand masher or put through a ricer. Add 2 tablespoons butter, milk, salt and pepper to potatoes and gently mix until combined.
Add chopped kale to the reserved potato water. Cook 6-8 minutes or until tender. Drain well and chop.
Meanwhile, saut chopped onions in 2 tablespoons butter on medium-high until slightly brown. Add to potato mixture and combine.
Serve hot.
Credit: Foodista.com – The Cooking Encyclopedia Everyone Can Edit