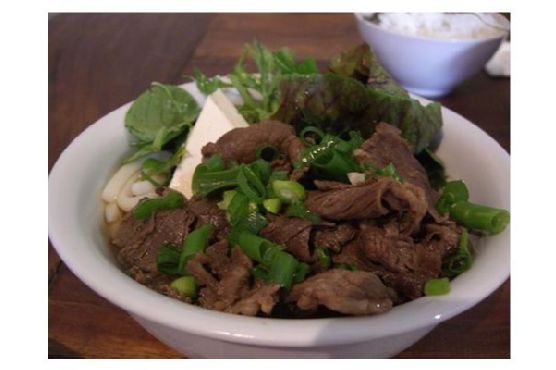 Japanese Steak Salad might be just the Japanese recipe you are searching for. This recipe makes 8 servings with 148 calories, 15g of protein, and 4g of fat each. For $1.35 per serving, this recipe covers 12% of your daily requirements of vitamins and minerals. valentin day will be even more special with this recipe. It works well as a main course. From preparation to the plate, this recipe takes about 45 minutes. Only a few people made this recipe, and 1 would say it hit the spot. It is a good option if you're following a gluten free and dairy free diet. A mixture of pea pods, water, oriental roasted sesame oil, and a handful of other ingredients are all it takes to make this recipe so flavorful. To use up the cooked rice you could follow this main course with the Breakfast Rice Pudding as a dessert. All things considered, we decided this recipe deserves a spoonacular score of 69%. This score is solid. Try Japanese Steak Salad, Japanese Steakhouse Ginger Salad Dressing CopyCat Shogun Steak, and Japanese-style Flatiron Steak for similar recipes.
Japanese Steak Salad Instructions
Prepare Sesame Marinade and Dressing. Place beef top sirloin steak in plastic bag; add reserved marinade, turning to coat. Close bag securely and marinate in refrigerator 2 hours, turning once. Remove from marinade; place on rack in broiler pan so surface of meat is 3 to 4 inches from heat. Broil 14 to 16 minutes to doneness desired (rare to medium-rare), turning once. Let stand 5 minutes. Carve steak into thin slices.
Meanwhile, combine napa cabbage, romaine, carrots and radishes; place an equal amount of each on 4 individual plates. Arrange an equal number of cucumber slices in circle at top of salad greens on each plate. Mound 1/4 cup rice on each cucumber circle. Fan pea pods around both sides of rice. Arrange steak slices as spokes on salad greens, radiating down from rice. Serve dressing with salad. Makes 4 servings.
Combine dry sherry, soy sauce, vinegar, hoisin sauce and ginger; mix well. Divide mixture in half; reserve half for steak marinade. To prepare dressing, combine remaining mixture with water, green onion, sugar and oil; mix well. Yield: 1/3 cup marinade; 3/4 cup dressing.
Credit: Foodista.com – The Cooking Encyclopedia Everyone Can Edit