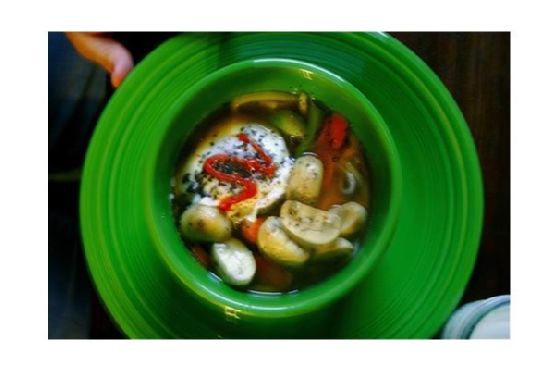 You can never have too many soup recipes, so give Japanese Mushroom Noodle Soup a try. This recipe makes 4 servings with 188 calories, 6g of protein, and 6g of fat each. For $3.16 per serving, this recipe covers 8% of your daily requirements of vitamins and minerals. Autumn will be even more special with this recipe. 1 person found this recipe to be delicious and satisfying. A mixture of orienta 1/2 cup mirin, chile oil, green onion, and a handful of other ingredients are all it takes to make this recipe so flavorful. It is a good option if you're following a dairy free diet. This recipe is typical of Japanese cuisine. From preparation to the plate, this recipe takes around around 45 minutes. It is brought to you by Foodista. Overall, this recipe earns a not so excellent spoonacular score of 39%. Users who liked this recipe also liked Japanese Noodle Soup, Japanese Noodle Soup, and Japanese Chicken Noodle Soup.
Japanese Mushroom Noodle Soup Instructions
Break noodles in half; cook according to package directions. Meanwhile, in large saucepan, heat chile oil over medium heat. Add mushrooms, garlic and ginger; cook 5 minutes, stirring occasionally. Add broth, mirin and soy sauce; bring to a boil. Simmer, uncovered, 10 minutes, stirring once. Drain noodles, stir into soup. Stir in green onions and sesame oil. Ladle into shallow soup bowls.
Credit: Foodista.com – The Cooking Encyclopedia Everyone Can Edit