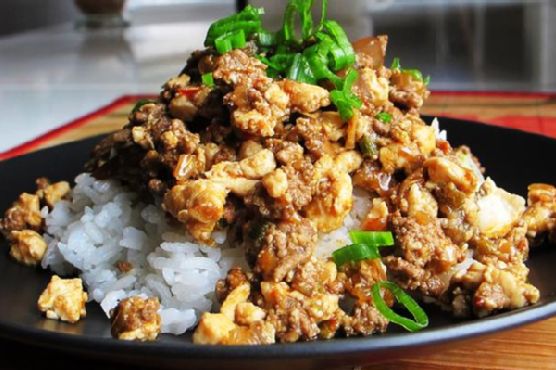 The recipe Japanese Mabo Tofu With Eggplant is ready in about about 45 minutes and is definitely a tremendous gluten free and dairy free option for lovers of Japanese food. This recipe makes 4 servings with 389 calories, 19g of protein, and 28g of fat each. For $1.63 per serving, this recipe covers 16% of your daily requirements of vitamins and minerals. 2 people have tried and liked this recipe. Head to the store and pick up spring onions, eggplant, ground beef, and a few other things to make it today. It is brought to you by Foodista. With a spoonacular score of 39%, this dish is rather bad. Similar recipes are Mapo Tofu (Mabo Dofu), Japanese Tofu Hamburger, and Japanese Eggplant.
Japanese Mabo Tofu With Eggplant Instructions
Cook rice according to directions on package (I like to use Nishiki rice). Slice eggplant lengthwise into 4 strips. Slice horizontally into quarters. Set aside. In a pan over medium/high heat, add 2 tbsp oil, garlic, ginger, onions and half of the spring onions. Cook for 3 to 4 minutes, until onions are translucent. Add ground beef and season with a bit of salt & pepper. When the meat is cooked, add to-ban-jan and stir. Add sesame oil and eggplant and cook for 5 to 7 minutes, until the strips are soft and cooked through. Add tofu and delicately break it up while mixing it in. Add sake, sugar, water, 4 tbsp soy sauce, stir and cook for a couple of minutes. Add the remaining 2 tbsp soy sauce and spring onions, stir and turn the heat off. Serve over rice.
Credit: Foodista.com – The Cooking Encyclopedia Everyone Can Edit