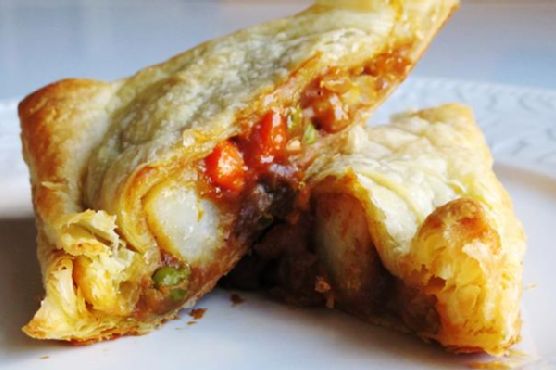 You can never have too many main course recipes, so give Japanese Curry Puffs a try. One serving contains 794 calories, 12g of protein, and 50g of fat. For $1.5 per serving, this recipe covers 24% of your daily requirements of vitamins and minerals. This recipe serves 4. Head to the store and pick up water, oil, onion, and a few other things to make it today. 3 people found this recipe to be yummy and satisfying. This recipe is typical of Japanese cuisine. From preparation to the plate, this recipe takes around around 45 minutes. It is brought to you by Foodista. It is a good option if you're following a dairy free, lacto ovo vegetarian, and vegan diet. All things considered, we decided this recipe deserves a spoonacular score of 66%. This score is pretty good. Similar recipes are Japanese Curry, Japanese Curry, and Japanese Curry from Scratch.
Japanese Curry Puffs Instructions
Preheat oven to 350 degrees. In a pot over medium/high heat, add oil and onions. Cook for 2 minutes. Add potatoes and carrots, cook for 5 minutes. Add water and bring to the boil. Lower heat and simmer for 15 minutes. Add curry mix and cook for another 10 minutes. On a sheet pan, cut puff pastry into squares (1 sheet should give you 4 squares) and with a spoon, fill the middle of 1/2 of the squares you have. Bake for 20 minutes or until the crust is a golden brown and serve!
Credit: Foodista.com – The Cooking Encyclopedia Everyone Can Edit