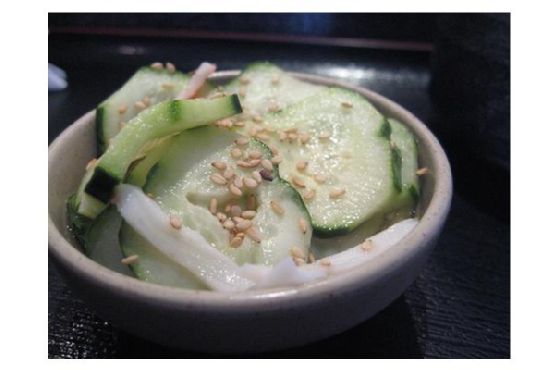 The recipe Japanese Cucumber Salad could satisfy your Japanese craving in around 45 minutes. For 30 cents per serving, you get a side dish that serves 4. Watching your figure? This gluten free and vegan recipe has 26 calories, 1g of protein, and 1g of fat per serving. 1 person has made this recipe and would make it again. Head to the store and pick up cucumber, green onions, sesame oil, and a few other things to make it today. All things considered, we decided this recipe deserves a spoonacular score of 44%. This score is solid. Try Japanese Cucumber Salad, Japanese Cucumber Salad, and Japanese Cucumber Salad for similar recipes.
Japanese Cucumber Salad Instructions
Combine all ingredients in a large bowl; toss until combined.
This recipe yields 4 servings.
Comments: Try to purchase English, a.k.a., seedless cucumbers, instead of regular ones. Though not actually seedless, the seeds are smaller and the flesh firmer.
Description: "This light, refreshing salad is a perfect accompaniment to grilled or roasted meats."
Credit: Foodista.com – The Cooking Encyclopedia Everyone Can Edit