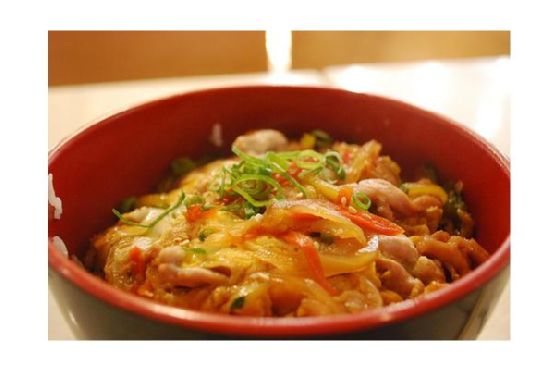 Japanese Chicken Donburi might be just the main course you are searching for. This gluten free and dairy free recipe serves 4 and costs $1.94 per serving. One serving contains 536 calories, 28g of protein, and 8g of fat. If you have roma tomato, sugar, onion, and a few other ingredients on hand, you can make it. To use up the eggs you could follow this main course with the Rose Levy Beranbaum's Chocolate Tomato Cake with Mystery Ganache as a dessert. This recipe is liked by 2 foodies and cooks. All things considered, we decided this recipe deserves a spoonacular score of 76%. This score is good. Try How to cook: Oyakodon (chicken and egg donburi), Oyster Donburi, and Niratama Donburi for similar recipes.
Japanese Chicken Donburi Instructions
In a deep 10-inch or 12-inch frying pan over high heat, stir oil, onion, and ginger until onion is lightly browned, about 2 minutes.
Add broth, soy sauce, and sugar. Add chicken to pan. Bring to a boil.
Add spinach, cover, and cook until wilted, about 1 minute. Meanwhile, in a small bowl, beat eggs to blend.
Reduce heat to low, evenly distribute mixture in pan, and pour in eggs. With a spatula, push vegetables aside slightly so egg mixture can flow down through sauce. Cover and cook just until eggs are softly set, 2 to 2 1/2 minutes.
Meanwhile, spoon rice into bowls. Top equally with egg-spinach mixture, including juices. Sprinkle with tomato.
Credit: Foodista.com – The Cooking Encyclopedia Everyone Can Edit