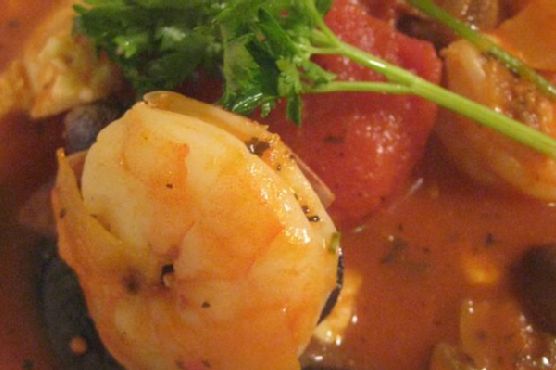 The recipe Italian Seafood Stew could satisfy your Mediterranean craving in approximately 45 minutes. One serving contains 465 calories, 60g of protein, and 8g of fat. For $6.58 per serving, you get a main course that serves 3. It is perfect for Autumn. 1 person has made this recipe and would make it again. Head to the store and pick up shrimps, parsley, garlic, and a few other things to make it today. It is a good option if you're following a gluten free, dairy free, whole 30, and pescatarian diet. All things considered, we decided this recipe deserves a spoonacular score of 89%. This score is tremendous. Similar recipes include Italian Seafood Stew, Italian Seafood Stew with Garlic-Herb Croutons, and Seafood Stew.
Italian Seafood Stew Instructions
Prepare ingredients.
In a large pot, heat up 3 tbsp of olive oil and add garlic and onion. Sautee over medium heat.
Add salt, tomato paste, tomatoes with juice, stock, club soda, bay leaves and stir.
Simmer over medium low heat for 30 min.
Add mushrooms.
Add salt to taste.
Cook mussels according to package directions.
Add shrimp and fish into stew.
Add mussels.
Simmer for a few minutes.
Ready to serve with some baked bread.
Credit: Foodista.com – The Cooking Encyclopedia Everyone Can Edit