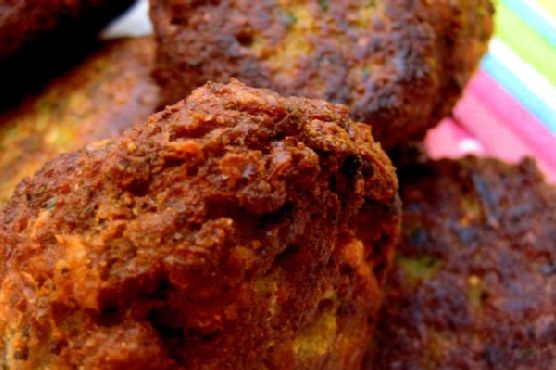 Indian-Inspired Falafel Appetizer might be just the middl eastern recipe you are searching for. For 23 cents per serving, this recipe covers 4% of your daily requirements of vitamins and minerals. One serving contains 65 calories, 3g of protein, and 2g of fat. If you have all purpose flour, onions, garlic cloves, and a few other ingredients on hand, you can make it. 1 person has made this recipe and would make it again. It is a good option if you're following a vegan diet. From preparation to the plate, this recipe takes approximately 45 minutes. All things considered, we decided this recipe deserves a spoonacular score of 41%. This score is good. Try Onion Salad - Indian Inspired, Indian-Inspired Lentil Soup, and Indian-Inspired Chicken Kabobs for similar recipes.
Indian-Inspired Falafel Appetizer Instructions
Clean and wash the garbanzo beans, black eyed peas and green gram. Soak the lentils overnight/ 6-8 hours in excess water. Drain and set them aside.
Grind them to a coarse paste in a grinder without water. Mix in all the ingredients and let the mixture sit for 1-2 hours in refrigerator. Bring them down to room temperature and roll them into small balls using a falafel scoop or a spoon or a small ice cream scoop and place over a baking sheet covered with a parchment paper.
Heat 3 inches of oil in a deep cooking vessel (375 degrees) . Once the oil gets heated up, first fry 1 ball and if the balls lose shape, add little more flour for maintaining the shape.
Fry them in batches of 6 at a time for 2-3 minutes on one side or until they turn golden brown. Drain excess oil and serve with a salad/pita bread/tahini sauce.
Credit: Foodista.com – The Cooking Encyclopedia Everyone Can Edit