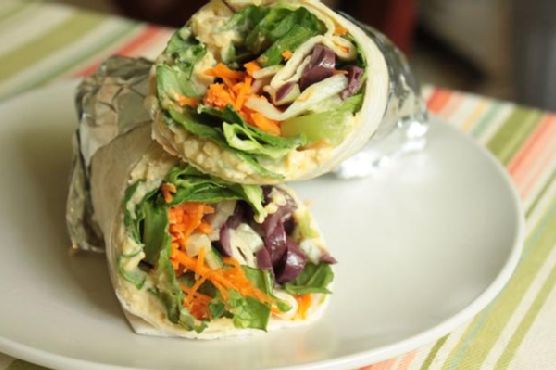 The recipe Hummus Wrap With Carrots and Cucumbers could satisfy your middl eastern craving in roughly 45 minutes. This recipe makes 1 servings with 864 calories, 35g of protein, and 33g of fat each. For $2.63 per serving, this recipe covers 45% of your daily requirements of vitamins and minerals. Only a few people made this recipe, and 1 would say it hit the spot. A mixture of olives, tortilla, garlic clove, and a handful of other ingredients are all it takes to make this recipe so yummy. It is a good option if you're following a gluten free and vegan diet. It works well as an affordable hor d'oeuvre. All things considered, we decided this recipe deserves a spoonacular score of 92%. This score is tremendous. Try Banh-mi Wrap: Vietnamese Grilled Pork Wrap with Pickled Carrots and Mint, Hummus Veggie Wrap Plus 10 Heavenly Hummus to Make at Home, and Heavenly Hummus Wrap with Homemade Hummus for similar recipes.
Hummus Wrap With Carrots and Cucumbers Instructions
Start with hummus. Throw all the ingredients into a food processor and process until smooth. The mixture might be a bit thick and hard to process so you can add few tablespoons of water or a bit more olive oil.
Tip: if I dont have tahini at home I simply toast 1 or 2 Tbsp sesame seeds and throw to a food processor instead of tahini.
Spread 2 Tbsp hummus in the center of a tortilla leaving about an inch on a top and bottom and few inches on a sides.
Follow with the lettuce, carrots, cucumbers and olives.
Fold top and bottom edges of the tortilla, turn 90 degrees and wrap the remaining tortilla around the filling. Wrap the tortilla in aluminum foil to hold its shape. Cut into half.
Credit: Foodista.com – The Cooking Encyclopedia Everyone Can Edit