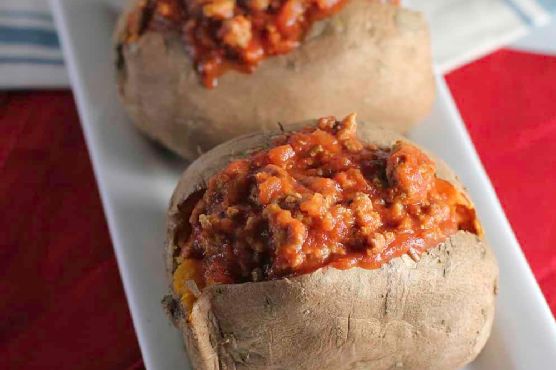 How to Make the Perfect Sweet Potato Sloppy Joes might be just the American recipe you are searching for. One portion of this dish contains roughly 46g of protein, 7g of fat, and a total of 407 calories. For $3.99 per serving, you get a main course that serves 4. 10 people have tried and liked this recipe. Head to the store and pick up salt and pepper, water, ground turkey, and a few other things to make it today. It is a good option if you're following a gluten free, dairy free, paleolithic, and primal diet. From preparation to the plate, this recipe takes around 40 minutes. It is brought to you by Pink When. Overall, this recipe earns a solid spoonacular score of 50%. Similar recipes are Just Perfect Sloppy Joes, How to Make Classic Sloppy Joes, and Make-Ahead Sloppy Joes.
How to Make the Perfect Sweet Potato Sloppy Joes Instructions
Instructions
Preheat the oven to 425 degrees. Pierce the sweet potatoes all over the skin with a fork. Rub the outside of the potatoes with olive oil and cover with foil. Bake in the oven for 1 hour until fully cooked.
Brown the ground turkey in a skillet on medium heat. Once it's finished cooking, add the onion, bell pepper, and garlic. Mix well. Cook until the mixture is fully cooked and starts to crumble.
Stir in the garlic, water, tomato paste, and tomato sauce. Stir until mixed well. Turn heat down to low and simmer for 20 minutes, stirring occasionally.
Remove the sweet potatoes from the foil and slice down the middle. Mash up the insides with a fork and pour the sloppy joe mix over sweet potatoes. Serve and enjoy!
Credit: Jen West