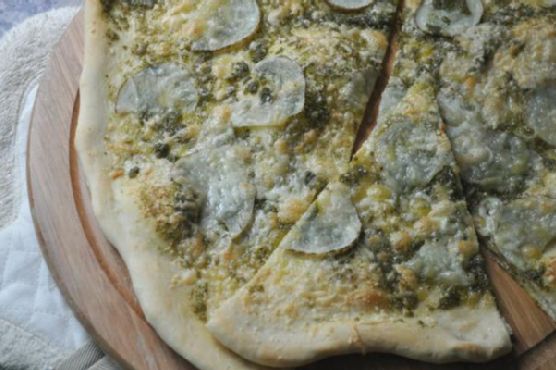 You can never have too many main course recipes, so give Homemade Thin Crust Pizza + Pesto + Potato a try. One serving contains 680 calories, 15g of protein, and 41g of fat. For $1.62 per serving, this recipe covers 23% of your daily requirements of vitamins and minerals. A mixture of kosher salt, pepper, salt, and a handful of other ingredients are all it takes to make this recipe so tasty. To use up the extra virgin olive oil you could follow this main course with the Peach Crisp: Healthy Crisp for Breakfast as a dessert. Not a lot of people made this recipe, and 1 would say it hit the spot. From preparation to the plate, this recipe takes around 45 minutes. This recipe is typical of Mediterranean cuisine. All things considered, we decided this recipe deserves a spoonacular score of 76%. This score is solid. Try Thin Crust Pizza, Thin Crust Bagel Pizza, and Thin Crust Create-a-Pizza for similar recipes.
Homemade Thin Crust Pizza + Pesto + Potato Instructions
Mise en place (put things in place).
Combine the flour, yeast, sugar, and water in a large bowl with a wooden spoon. Add more flour if it sticks to the sides and resembles more like a batter than dough.
All-Purpose Flour will give you more of a chewier crust, while Bread Flour will be crispier.
Once it comes together and isn't as sticky, scrape it out onto a well floured surface and sprinkle the salt on top.
Kneed the salt into the dough, adding flour as necessary.
Knead for 10 minutes, check if the dough is ready by slightly indenting the top of the dough, if it springs back you're good.
Tuck the ends underneath to stretch out the top and make a large ball, then put it in a well greased bowl rubbed with olive oil to proof.
Wrap it with cling film.
Place your cling wrap wrapped bowl inside the Microwave, and let it proof for an hour or until it has doubled in size.
Don't turn the microwave on, just let it sit in there.
While your dough is proofing you can prepare the pesto.
Soak almonds in water for fifteen minutes.
Wash and dry basil leaves.
Grate cheese. (extra for pizza too)
In a food processor we're going to put our basil, the cheese, soaked almonds, little salt and pepper, and 1/4 cup of extra virgin olive oil.
Process it on and off for thirty seconds.
Then drizzle in the rest of the olive oil while the food processor is on. This makes sure you get the optimal consistency for your likings.
When it's made fresh the oil tends to separate from the other ingredients. I suggest serving this after it's been in the refrigerator for an hour because the pesto rests and stays together better.
When the dough has doubled plop it onto a lightly dusted countertop and move it around so the entire dough gets covered.
Divide it into thirds.
Preheat the oven to 500F and place a baking stone on the middle rack. (you can also use an overturned cookie sheet)
NOTE: The baking stone/cookie sheet has to be larger than the size of the pizza you are making, otherwise it will hang over the edges and burn onto the oven rack.
Coat one ball of dough with flour and place it on a well-floured surface. Using your fingertips, gently flatten the dough into an 8-inch disk, leaving an inch or so of outer edge thicker than the center.
Using your hands, gently stretch it into a 10-12 inch round, working along the edges and giving the dough quarter turns as you stretch it.
Transfer the dough onto a pizza peel coated with flour or semolina, cornmeal is fine as well.
Top with a thin layer of the pesto.
Mandolin thin slices of potato and arrange them on the pizza. I don't prepare the potato ahead of time because sometimes it will oxidize and turn red and it makes for an ugly pizza.
Slide the pizza onto the stone and bake it for 10-12 minutes or until the crust is brown and the cheese as melty and shimmering.
Wait a little to slice and serve. Serve it hot.
I feel obliged to remind you about the other two balls of dough, but once you devour the first one I guarantee you'll be searching for the others. And as always,
Chow!
Credit: Foodista.com – The Cooking Encyclopedia Everyone Can Edit