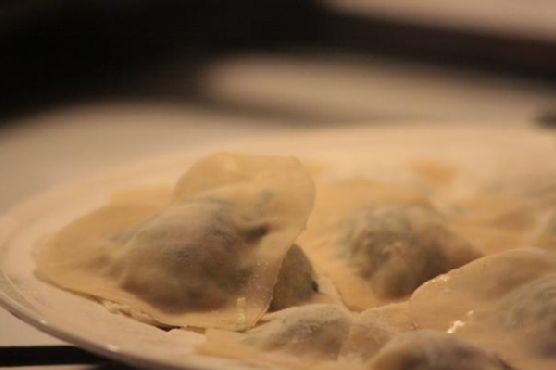 The recipe Heart Shaped Spinach Ravioli could satisfy your Mediterranean craving in roughly 45 minutes. This recipe serves 3 and costs $2.6 per serving. One serving contains 528 calories, 22g of protein, and 7g of fat. This recipe is liked by 1 foodies and cooks. It works well as a budget friendly main course for valentin day. Head to the store and pick up leek, spinach, garlic cloves, and a few other things to make it today. All things considered, we decided this recipe deserves a spoonacular score of 60%. This score is solid. Try Heart Shaped Pizza, Heart-Shaped Cookies, and Heart Shaped Pie Pops for similar recipes.
Heart Shaped Spinach Ravioli Instructions
Lightly steam whole head of spinach. Wring it out. Chop it up.
Add leek, garlic, ricotta salt and pepper.
In a separate bowl beat egg with a dash of cream or milk.
Lay down one wonton wrapper.
Place 1/2 t. of filling in center.
Brush 4 edges with egg mixture.
Lay onother wrapper on top, push out air.
Cut with cookie cutter. -Make sure edges are sealed.
Lay in a bed of flour until ready to boil.
Boil for 5 minutes or until they float to the top. Strain.
Toss them in your favorite sauce.
Credit: Foodista.com – The Cooking Encyclopedia Everyone Can Edit