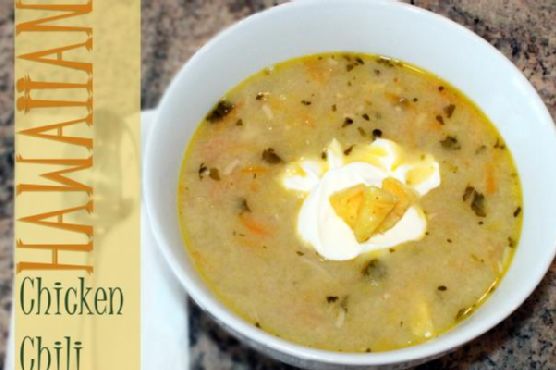 The recipe Hawaiian Chicken Chili is ready in roughly 45 minutes and is definitely a spectacular gluten free option for lovers of American food. For $2.09 per serving, you get a main course that serves 8. One serving contains 326 calories, 13g of protein, and 17g of fat. This recipe is liked by 4 foodies and cooks. A mixture of excellent northern beans, cilantro, cream, and a handful of other ingredients are all it takes to make this recipe so flavorful. To use up the pineapple you could follow this main course with the Pineapple Cupcakes as a dessert. It can be enjoyed any time, but it is especially good for The Super Bowl. All things considered, we decided this recipe deserves a spoonacular score of 68%. This score is good. Try Crock-Pot Hawaiian Chicken Chili, Chili Steak with Hawaiian Rice, and Hawaiian Chicken for similar recipes.
Hawaiian Chicken Chili Instructions
Cut 1/2 of a pineapple into small cubes. Add to food processor.
Puree pineapple until liquified.
Cut chicken into cubes. Add to pan. Pour puree'd pinapple over top. Cook chicken.
Chop 1/2 onion.
When chicken is almost fully cooked, add onion to chicken & pineapple mixture.
Add a scoop of Coconut Milk to chicken mixture. Add a tablespoon of white pepper. Add 4 cloves of pressed garlic.
Grab a small bunch of cilantro and few sprigs of thyme. Chop them.
Add cilantro and thyme to chicken mixture.
Once chicken is fully cooked and onions are almost see through, scoop mixture into food processor. Lightly grind food until chicken looks shredded.
Grate 2 medium sized carrots finely.
Pour in a new pan 1 can of coconut milk, 32 oz. chicken broth, 1 can of water. Add 2 cans Great Northern Beans & Shredded chicken mixture. Mix well. Bring to a boil. Then simmer. Add carrots.
In another pan, add 1 cup of water. 1 tsp garlic, 1/4 tsp. cumin, 2 tbsp. coconut flakes, sea salt, 4 dashes of Jamaican Allspice. Add 1/2 cup Long Grain Brown Rice.
Cook rice until al dente. (Still slightly crunchy.)
Add rice to simmering mixture. Simmer until carrots and rice are cooked thoroughly.
Serve with sour cream.
Credit: Foodista.com – The Cooking Encyclopedia Everyone Can Edit