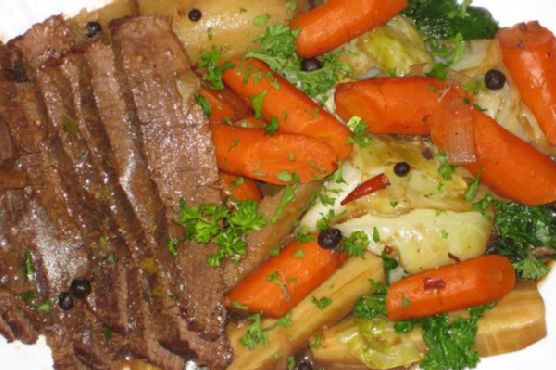 Guinness Braised Corned Beef and Cabbage requires approximately approximately 45 minutes from start to finish. This recipe serves 6. This main course has 541 calories, 30g of protein, and 23g of fat per serving. For $2.94 per serving, this recipe covers 39% of your daily requirements of vitamins and minerals. 6 people have tried and liked this recipe. It can be enjoyed any time, but it is especially good for st. patrick day. This recipe from Foodista requires corned beef brisket, carrots, garlic, and brown sugar. This recipe is typical of European cuisine. It is a good option if you're following a dairy free diet. With a spoonacular score of 89%, this dish is great. Guinness Corned Beef and Cabbage, Guinness Corned Beef and Cabbage, and guinness corned beef and cabbage are very similar to this recipe.
Guinness Braised Corned Beef and Cabbage Instructions
Season both sides of the corned beef liberally with pepper. The corning of the beef makes the beef salty enough, so no need to add more. Heat 1 TBSP oil in a large, shallow oven-safe pot over medium-high heat. Add beef and sear each side for about 3 minutes, just to develop a nice brown crust. This will seal in the beef's juices. Remove beef to a plate. Pour guinness into the pot to deglaze. Scrape up any browned bits. Add beef broth, pickling spice, brown sugar, bay leaf, and minced garlic. Bring mixture up to a simmer. Return the beef to the pot with any additional juices that have accumulated on the plate. Cover the pot and place on the bottom rack in your oven. Bake for 2 1/2 - 3 hours, or until a fork can easily be inserted into the meat. Baste the meat with the surrounding juices every 30 minutes or so. After 2 hours, add carrots, parsnips, and potatoes to the pot. They will only take about 25-30 minutes of simmering to cook. Remove pot from the oven. Place beef on a cutting board and let it rest for 15 minutes before carving into thin slices (cut against the grain of the meat). Remove vegetables and arrange them on a serving platter. Cover with foil. Place the pot on the burner and bring sauce to a boil. Add cabbage and cook for about 7 minutes, until it has softened. Place the cabbage on the serving platter with the other vegetables. Strain the sauce in the pot and stir in 2 or 3 TBSP of spicy honey mustard until dissolved. Place in a small dish or gravy boat with a ladle and serve alongside the beef. After slicing the beef and arranging it on the serving platter, ladle the guinness mustard sauce over the top to rehydrate and glaze the beef and vegetables.
Credit: Foodista.com – The Cooking Encyclopedia Everyone Can Edit