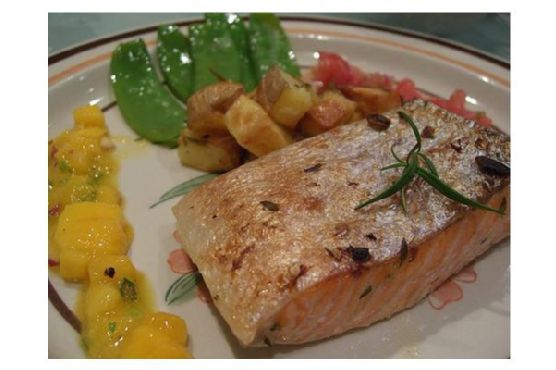 Grilled Salmon With Mango Salsa might be just the main course you are searching for. For $9.71 per serving, this recipe covers 42% of your daily requirements of vitamins and minerals. This recipe makes 4 servings with 727 calories, 52g of protein, and 14g of fat each. This recipe is typical of Mexican cuisine. It will be a hit at your The Fourth Of July event. Head to the store and pick up finely-chopped onion, salt, skin-on salmon fillet, and a few other things to make it today. To use up the dried diced mango you could follow this main course with the Curry Ice Cream with Mango and Pistachio as a dessert. This recipe is liked by 1 foodies and cooks. From preparation to the plate, this recipe takes roughly 45 minutes. It is a good option if you're following a caveman, gluten free, dairy free, and primal diet. All things considered, we decided this recipe deserves a spoonacular score of 88%. This score is awesome. Try Grilled Salmon with Mango Salsa, Grilled Salmon with Mango Salsa, and Grilled Salmon with Mango Salsa for similar recipes.
Grilled Salmon With Mango Salsa Instructions
To make salsa: In bowl, combine mango, pineapple, onion, cilantro and lime juice. Season to taste with salt. Set aside 20 minute to 1 hour, to blend.
Heat grill to medium-high. Season salmon with salt and pepper. Place fish on hot grill, skin-side down, and cook 5 minutes. Do not worry if skin is blackened. Turn and grill fish until it is no longer raw in center, about 3 minutes, depending on thickness of the fish.
To serve, place piece of grilled salmon in center of each of 4 dinner plates. Arrange about 1/4 cup salsa along either side of fish.
This recipe yields 4 servings.
Credit: Foodista.com – The Cooking Encyclopedia Everyone Can Edit