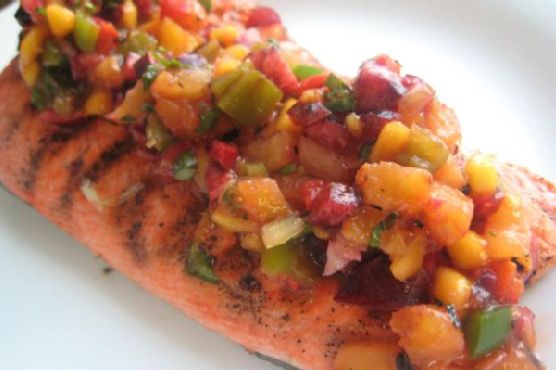 The recipe Grilled Salmon With Cherry, Pineapple, Mango Salsa could satisfy your Mexican craving in around 15 minutes. For $9.13 per serving, this recipe covers 39% of your daily requirements of vitamins and minerals. One serving contains 510 calories, 37g of protein, and 19g of fat. It can be enjoyed any time, but it is especially good for The Fourth Of July. A mixture of lime zest, mango, basil, and a handful of other ingredients are all it takes to make this recipe so flavorful. To use up the peach you could follow this main course with the Peach Pie as a dessert. Only a few people made this recipe, and 1 would say it hit the spot. It is a good option if you're following a caveman, gluten free, dairy free, and primal diet. It works well as an expensive main course. All things considered, we decided this recipe deserves a spoonacular score of 92%. This score is awesome. Try Jamaican Jerk Salmon and Mango Pineapple Salsa, Grilled Pineapple Mango Salsa, and Grilled Pineapple Mango Salsa for similar recipes.
Grilled Salmon With Cherry, Pineapple, Mango Salsa Instructions
Combine all the above ingredients except the olive oil and salmon into a mixing bowl. Stir gently. Add one splash of olive oil and taste for seasoning. Cover and refrigerate until ready to use.
Lightly oil and season a salmon fillet with a splash of olive oil and salt and pepper. Place flesh side down on a cleaned and oiled grill or pan. Cook for 2-4 minutes depending on the thickness. Flip and cook for another 2-4 minutes until done.
Top salmon with salsa and serve!
Credit: Foodista.com – The Cooking Encyclopedia Everyone Can Edit