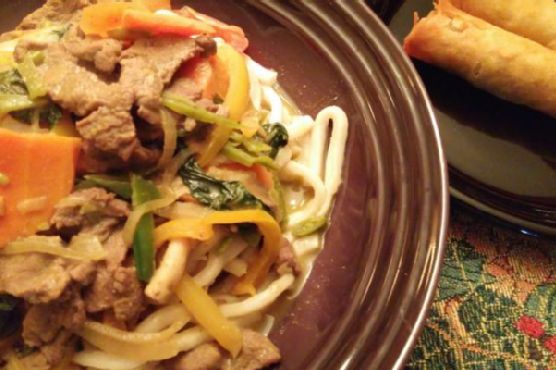 The recipe Green Thai Curry with Beef could satisfy your Asian craving in around 3 hours. One serving contains 655 calories, 39g of protein, and 46g of fat. This recipe serves 4 and costs $5.82 per serving. Only a few people made this recipe, and 2 would say it hit the spot. It is a good option if you're following a gluten free and dairy free diet. Head to the store and pick up oyster mushrooms, rice wine vinegar, carrots, and a few other things to make it today. To use up the oil you could follow this main course with the Vegan Mango Banana Bread as a dessert. It works well as a main course. All things considered, we decided this recipe deserves a spoonacular score of 79%. This score is pretty good. Try Thai Red Beef Curry with Green Beans, Homemade Thai Green Curry Paste (And An Easy Thai Green Curry), and Thai Green Curry Turkey and Zucchini Meatloaf in a Coconut Milk Green Curry Sauce for similar recipes.
Green Thai Curry with Beef Instructions
Prepare marinade.
Slice beef. Add beef and marinade to freezer bag. Marinate for 2-4 in the fridge. The longer the better.
Slice/chop all your veggies.
Prepare your curry paste.
Add oil to wok and heat.
Cook beef until done, approximately 10 minutes.
Remove from wok and set aside.
Add onions and cook for about 2 minutes.
Add carrots, peppers and mushrooms.
When almost done (to your preferred tenderness) add snap peas and bok choy. Cook about 2 minutes.
Remove veggies from wok and set aside.
Add curry paste to wok and heat through.
Add coconut milk and whisk until smooth.
Bring to a boil.
Add beef to the sauce.
Add veggies to the beef/sauce mixture.
Heat through.
Serve over your choice of noodles or riice.
Credit: Foodista.com – The Cooking Encyclopedia Everyone Can Edit