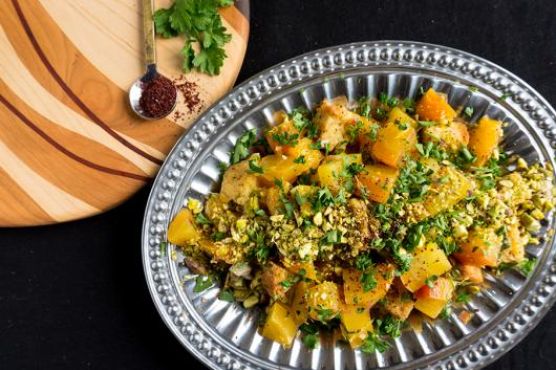 Forget going out to eat or ordering takeout every time you crave Mediterranean food. Try making Golden Beet Panzanellan at home. This dairy free and lacto ovo vegetarian recipe serves 4 and costs $5.39 per serving. This side dish has 440 calories, 12g of protein, and 24g of fat per serving. Not a lot of people made this recipe, and 1 would say it hit the spot. If you have lemon juice, golden beets, oranges, and a few other ingredients on hand, you can make it. It is brought to you by Foodista. From preparation to the plate, this recipe takes around 1 hour and 10 minutes. Taking all factors into account, this recipe earns a spoonacular score of 88%, which is outstanding. If you like this recipe, take a look at these similar recipes: Golden Beet & Beet Greens Pasta with Ricottan and Feta Cheese, Golden Beet & Beet Greens Pasta with Ricottan and Feta Cheese, and Golden Beet and Beet Greens Soup.
Golden Beet Panzanella Instructions
Sumac Vinaigrette
Combine all the dressing ingredients into a container and blend well. This can be made ahead of time to allow flavors to develop.
Salad Prep
Preheat oven to 400F. Wrap beets in foil and roast for about 1 hour until tender. Peel and dice.
Toast the bread slices, cut into cubes and set aside.
Peel the oranges and remove the white pith. Cut into segments.
Crush the pistachios.
Chop the parsley and mint.
Salad Assembly
Combine the beets, orange segments, sunflower seeds, herbs, and 1/2 tablespoon sumac in a large bowl.
Toss with half of the dressing. Add salt and pepper to taste.
If eating immediately, add the cubed bread and more dressing. Toss until the bread cubes are coated with dressing. You may have dressing left over.
Sprinkle the pistachios on top along with the remaining 1/2 tablespoon sumac, salt and pepper to taste.
If making this ahead of time, toss with the bread cubes right before serving.
Credit: Foodista.com – The Cooking Encyclopedia Everyone Can Edit