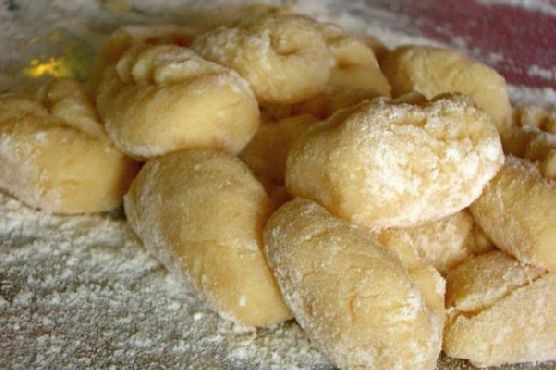 Gluten Free Vegan Gnocchi could be just the gluten free, dairy free, lacto ovo vegetarian, and vegan recipe you've been looking for. This recipe serves 4 and costs 31 cents per serving. One serving contains 111 calories, 4g of protein, and 0g of fat. From preparation to the plate, this recipe takes around around 45 minutes. This recipe is liked by 1 foodies and cooks. This recipe is typical of Mediterranean cuisine. It is brought to you by Foodista. It works well as a side dish. A mixture of yukon gold potatoes, ener-g egg replacer, chickpea flour, and a handful of other ingredients are all it takes to make this recipe so tasty. Overall, this recipe earns an awesome spoonacular score of 84%. Gluten-Free Vegan Walnut and Oat Brownies (Vegan, Gluten-Free, Grain-Free, Flourless, Dairy-Free, No Refined Sugar), Baked Chipotle Sweet Potato and Zucchini Fritters (vegan, gluten-free) with Homemade Spicy Honey Mustard (gluten-free with vegan option), and Creamy Vegan Corn and Red Pepper Blender Soup (gluten-free, soy-free, nut-free, grain-free, salt-free) are very similar to this recipe.
Gluten Free Vegan Gnocchi Instructions
Preheat oven to 425F. Pierce potatoes 2-3 times with a fork, place on a microwave-safe plate and microwave for 3 minutes. Place potatoes on racks set over a cookie sheet and bake 1 hour. Allow to cool until you are able to handle them, then peel them into a potato ricer or food mill basin and run through. Add egg replacer and beat in. Combine the chickpea flour and potato starch, then add to the potato mixture and blend to a fairly stiff dough. Divide into four even pieces and chill 1 hour. Roll out 1 porton of the dough into a rope about 20" long. Cut rope into approximately 1" pieces and place onto a lined or greased cookie sheet. With the back of a fork, slightly flatten each of the gnocchi. Chill 1 hour before cooking or freeze on the sheet and transfer to a freezer bag for later cooking. Repeat process with remaining dough. To cook, heat 1/2 tbsp of oil or a small amount of non-stick spray in a large skillet (or for a non-vegan version, cook some bacon until crisp and use the bacon fat). Add chilled gnocchi and cook, stirring once or twice, until well browned on all sides. Add desired sauce (don't add too much or they will fall apart) and toss well.
Credit: Foodista.com – The Cooking Encyclopedia Everyone Can Edit