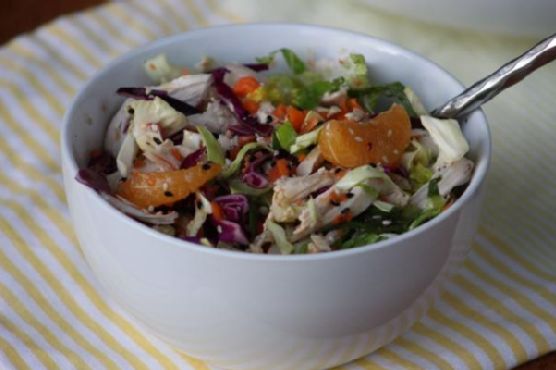 The recipe Gluten Free Dairy Free Sugar Free Chinese Chicken Salad could satisfy your Chinese craving in around 45 minutes. One serving contains 351 calories, 31g of protein, and 15g of fat. For $3.06 per serving, this recipe covers 32% of your daily requirements of vitamins and minerals. It works well as a pretty expensive main course. A mixture of extra virgin olive oil, xylitol, juice of 1 mandarin (cut crosswise then tablespoon into jar over a strainer), and a handful of other ingredients are all it takes to make this recipe so flavorful. To use up the white sesame seeds you could follow this main course with the Sesame Banana Bread as a dessert. It is a good option if you're following a gluten free and dairy free diet. 1 person were impressed by this recipe. All things considered, we decided this recipe deserves a spoonacular score of 93%. This score is outstanding. Try Thousand Island Dressing (Gluten-Free, Corn-Free, Dairy-Free, Soy-Free, Nut-Free, Gum-Free and Refined Sugar-Free), Everything-Free Cookies (dairy-free, gluten-free, egg-free, nut-free, & sugar-free), and Gluten-Free Vegan Walnut and Oat Brownies (Vegan, Gluten-Free, Grain-Free, Flourless, Dairy-Free, No Refined Sugar) for similar recipes.
Gluten Free Dairy Free Sugar Free Chinese Chicken Salad Instructions
For the salad:
Finely slice the red, and green cabbage.
Remove ends and finely slice romaine lettuce.
Trim ends of scallions (white and green side) and finely slice.
Peel and grate carrots, or put into a mini food processor to finely chop.
Peel clementines then remove pith from slices.
Add all the ingredients into a large serving bowl.
For the dressing:
Add all the ingredients into a glass jar and shake until well blended, or whisk all the ingredients in a mixing bowl.
Pour dressing over salad, toss to combine well.
If making ahead, dress the salad just before serving.
Credit: Foodista.com – The Cooking Encyclopedia Everyone Can Edit