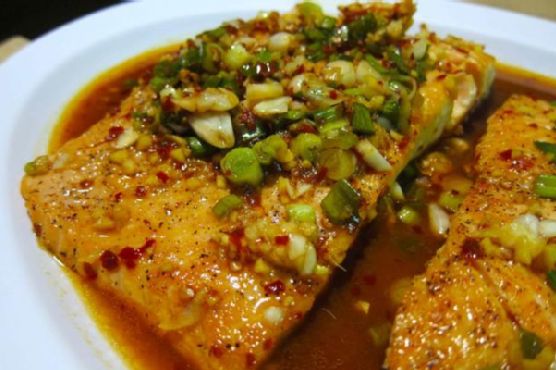 Forget going out to eat or ordering takeout every time you crave American food. Try making Ginger Garlic Chili Salmon at home. For $4.15 per serving, you get a main course that serves 2. One serving contains 308 calories, 35g of protein, and 11g of fat. This recipe is liked by 2 foodies and cooks. From preparation to the plate, this recipe takes about about 45 minutes. It can be enjoyed any time, but it is especially good for The Super Bowl. Head to the store and pick up chili sauce, brown sugar, soy sauce, and a few other things to make it today. It is brought to you by Foodista. It is a good option if you're following a gluten free, dairy free, and pescatarian diet. Taking all factors into account, this recipe earns a spoonacular score of 87%, which is excellent. Similar recipes include Ginger & Garlic Salmon, Ginger, Garlic & Chili Shrimp, and Garlic-Ginger Salmon Packets.
Ginger Garlic Chili Salmon Instructions
Season both sides of salmon fillets with salt and pepper. Chop green onions and put them aside. In a bowl, combine minced ginger, crushed garlic, brown sugar, rice vinegar, hot chili sauce, soy sauce and water. This is the sauce for simmering the salmon. In a deep skillet, pan sear the salmon on medium high heat for 4-5 minutes or until it's almost half done on the side. Flip the salmon to the other side and sear for 2 minutes. Pour in the sauce when the salmon is still slightly raw in the middle, and let it simmer for 10 minutes on medium heat. When the sauce is reduced, add in the chopped green onions. Continuously scoop the sauce over the salmon for at least one minute to let the top side of the salmon absorb the sauce. Remove the salmon carefully from the skillet and transfer to a dish. If the sauce is not reduced to the desired consistency, leave it in the skillet and let it continue to reduce. Pour the sauce over the salmon and serve.
Credit: Foodista.com – The Cooking Encyclopedia Everyone Can Edit