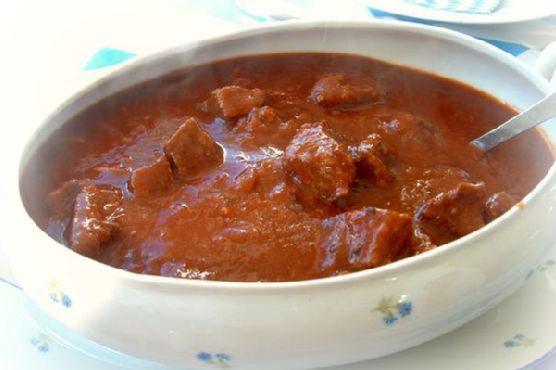 German Goulash is an Eastern European recipe that serves 4. This main course has 550 calories, 66g of protein, and 25g of fat per serving. For $3.35 per serving, this recipe covers 40% of your daily requirements of vitamins and minerals. Head to the store and pick up water, ground pepper, flour, and a few other things to make it today. This recipe from Foodista has 2 fans. It is a good option if you're following a dairy free diet. From preparation to the plate, this recipe takes around around 45 minutes. All things considered, we decided this recipe deserves a spoonacular score of 85%. This score is outstanding. If you like this recipe, take a look at these similar recipes: German Goulash, Gulaschsuppe (German Goulash Soup), and Szegediner Gulasch (German Sauerkraut Beef Goulash) for #SundaySupper.
German Goulash Instructions
Cut roast in 1 inch cubes. In Dutch oven, brown meat, and onions in oil. Add water, bouillon cubes, flour, tomato sauce, paprika, and pepper. Simmer low for 2 hours, until meat is tender. Serve over egg noodles. This dish cooks up very well in a crock pot.
Credit: Foodista.com – The Cooking Encyclopedia Everyone Can Edit