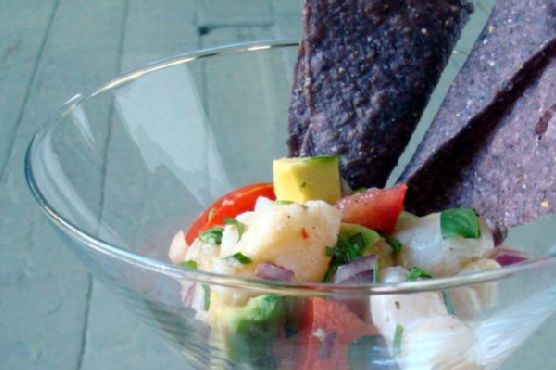 The recipe Fresh and Simple Swai Ceviche is ready in about 45 minutes and is definitely a tremendous gluten free, dairy free, whole 30, and pescatarian option for lovers of South American food. For $2.54 per serving, this recipe covers 15% of your daily requirements of vitamins and minerals. One serving contains 309 calories, 22g of protein, and 22g of fat. 2 people have made this recipe and would make it again. If you have avocado, juice of lime, swai fillets, and a few other ingredients on hand, you can make it. To use up the olive oil you could follow this main course with the Sauteed Banana, Granolan and Yogurt Parfait as a dessert. Only a few people really liked this main course. All things considered, we decided this recipe deserves a spoonacular score of 80%. This score is spectacular. Try Fresh and Simple Swai Ceviche, Simple Salmon Ceviche, and Simple Shrimp Ceviche for similar recipes.
Fresh and Simple Swai Ceviche Instructions
Place the diced fish into of the lime juice and refrigerate for at least 3 hours. Strain when ready to proceed.
Mix the veggies with the remaining lime juice.
Stir in the fish and cilantro. Drizzle with olive oil and add the chile-garlic sauce. Gently toss.
Salt and pepper to taste. Serve with tortilla chips or a salad.
Credit: Foodista.com – The Cooking Encyclopedia Everyone Can Edit