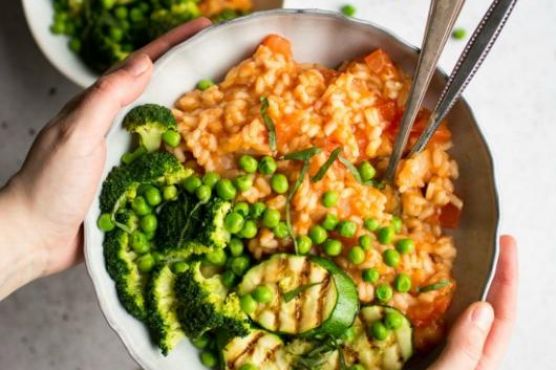 The recipe Fresh Tomato Risotto with Grilled Green Vegetables can be made in about 1 hour. This recipe serves 4. This hor d'oeuvre has 296 calories, 9g of protein, and 1g of fat per serving. For $2.3 per serving, this recipe covers 25% of your daily requirements of vitamins and minerals. It is brought to you by Foodista. It can be enjoyed any time, but it is especially good for The Fourth Of July. Only a few people made this recipe, and 1 would say it hit the spot. If you have zucchini, garlic, peas, and a few other ingredients on hand, you can make it. It is an affordable recipe for fans of Mediterranean food. It is a good option if you're following a gluten free, dairy free, lacto ovo vegetarian, and vegan diet. Overall, this recipe earns a solid spoonacular score of 61%. Users who liked this recipe also liked Fresh Tomato Zucchini And Lemon Risotto, Dinner Tonight: Roasted Tomato Risotto with Fresh Mozzarella, and Fresh Pea Risotto with Spicy Grilled Shrimp.
Fresh Tomato Risotto with Grilled Green Vegetables Instructions
Heat the vegetable stock in a saucepan and keep just below a simmer. Blend 4 of the tomatoes in a blender until purified, then add to the vegetable stock.
Heat a large, deep skillet with 1 tbsp olive oil on a medium heat and add the onion and saute for 2-3 minutes until translucent. Add the garlic and saute for a further 1 minute.
Add the rice to the pan and stir with the onion and garlic, cook for 1 minute so the rice is coated. Then add the wine and stir cooking until the wine is completely absorbed.
Begin to add the stock and tomato mixture into the rice dish, stirring each time and making sure each ladle is absorbed before adding the next. Keep going until all the stock is used up, this should take between 35-45 minutes.
Dice the other two tomatoes and add in at the end to warm through.
Grill your green vegetables (wrapped in foil if you are using small veggies) until they are cooked but still have some bite.
Serve immediately with risotto.
Credit: Foodista.com – The Cooking Encyclopedia Everyone Can Edit