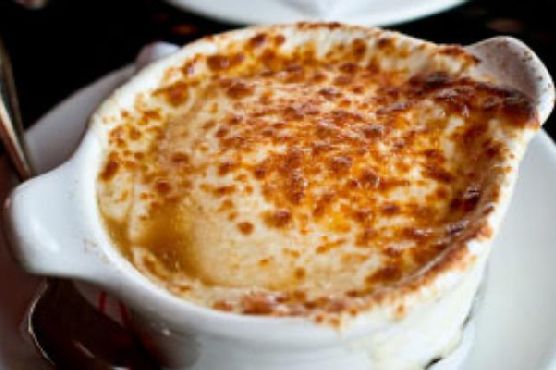 French Onion Marsala Soup is a main course that serves 4. One portion of this dish contains roughly 26g of protein, 40g of fat, and a total of 596 calories. For $2.72 per serving, this recipe covers 18% of your daily requirements of vitamins and minerals. A mixture of provolone cheese, parmesan cheese, onions, and a handful of other ingredients are all it takes to make this recipe so tasty. It is a rather cheap recipe for fans of Mediterranean food. From preparation to the plate, this recipe takes roughly roughly 45 minutes. This recipe from Foodista has 8 fans. It will be a hit at your Autumn event. With a spoonacular score of 40%, this dish is rather bad. Le Cafe Ile St. Louis Onion Soup Gratinee – this is a new take on the classic French Onion Soup, French Onion Soup Topped French Bread Pizzas and Salad with Dijon Vinaigrette, and Crockpot French Onion Soup with Cheesy French Toast are very similar to this recipe.
French Onion Marsala Soup Instructions
Melt butter with olive oil in a large pot over medium heat. Add onions and stir continually until translucent. Add beef broth, marsala and thyme. Simmer for 30 minutes. Add sugar and season with salt and pepper. Be careful not to over salt! Ladle soup into oven-safe bowls and place a handful of croutons in each. Sprinkle parmesan and swiss cheese and layer 2 slices of provolone on top. Place bowls on cookie sheet and broil in the preheated oven until cheese bubbles and browns.
Credit: Foodista.com – The Cooking Encyclopedia Everyone Can Edit